This transport cask will haul nuclear waste from Vermont to Texas
David Wagman | November 08, 2019
Orano TN delivered a shielded transport cask that is intended to move used nuclear fuel assemblies and low level waste (LLW).
The transport cask, labeled the NUHOMS MP197HB cask, will be used later this year to move LLW from the Vermont Yankee nuclear power plant decommissioning site to a Waste Control Specialists site in Texas.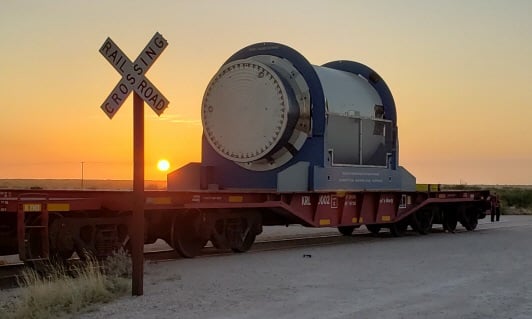 The cask, loaded on a flatcar, undergoes testing in Texas. Source: OranoThe cask is designed to transport high burnup and damaged used nuclear fuel. It was first licensed by the Nuclear Regulatory Commission in October 2011, and has had multiple revisions to cover a variety of loads.
The cask is part of Orano's NUHOMS dry storage system, which has been used to store used nuclear fuel at more than 30 U.S. reactor sites. In practice, the cask is loaded and unloaded using a direct horizontal transfer, where the canisters are neither lifted nor suspended from a crane or a lifting device.
Orano USA is a unit of the global company Orano, a technology and services provider for decommissioning shutdown nuclear energy facilities, used fuel management, federal site cleanup and closure, and the sale of uranium, conversion and enrichment services to the U.S. commercial and federal markets.