What's so special about beam welding? Part 3: Beam welding advantages and applications
Gary Kardys | November 09, 2019
Sponsored Content
This article, the third in Welding Digest's three-part series on beam welding, examines some of beam welding's niche areas and basic applications. Be sure to read parts 1 and 2.
Precision beam microwelding
Fine, lower energy beams make beam welding a powerful tool for micro and nano welding. Beam welding has a high level of versatility with the ability to produce shallow penetrations less than 1 mm in depth and bead sizes less than 1 mm in width. Laser microwelding finds application joining miniature part in electronics, automotive, medical and jewelry industries
Dissimilar and exotic alloy joining
Electron and laser beams can melt or vaporize a wide range of materials including metals, thermoplastics, glass, thermoplastic elastomers and ceramics. They can burn or vaporize wood, composites, thermoset rubbers and plastics, ceramics, and concrete.

Figure 1: Laser welds in 304 austenitic stainless steel with increasing power levels from left to right. Source: AWS
Laser welding is also useful in welding dissimilar materials. For example, thermoplastics can be joined to metals using lasers. The laser melts the thermoplastic, which then sticks to the metal surface like a hot melt adhesive. Lasers have also been used to join dissimilar metals like aluminum and steel.
While the need for hard vacuum is hassle for electron beam welding, the vacuum chamber does prevent oxidation and contamination of workpieces, which is an advantage when welding reactive metals like superalloys, titanium, vanadium, beryllium, zirconium, niobium and tantalum. Electron beams can even weld high melting point or refractory metals like tungsten and molybdenum. Electron beams can weld dissimilar metals and exotic alloys, which are unweldable using conventional arc welding. NASA is using electron beam welding of pure tungsten HexCans for nuclear thermal propulsion engines.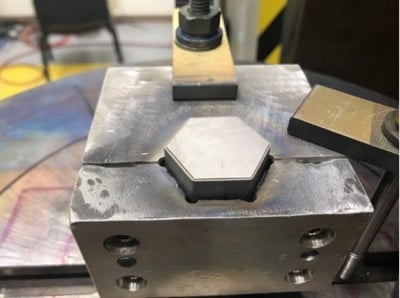 Figure 2: Electron beam welding of pure tungsten HexCans for nuclear thermal propulsion engines. Source: NASA
Beam welding industry applications
Laser microwelding is widely used in welding critical medical devices. For example, pacemakers are sealed with lasers to prevent ingress of body fluids into the device. Catheters, implants, metal stents and orthodontic brackets are often welded with lasers. Laser microwelding is commonly used to repair defect in expensive molds and tools. Tool steels can be difficult or unweldable with arc welding.
Jewelers use laser microwelders because they provide unparalleled control over intricate details and weld dimensions. Laser welding can be used to fill in porosity, repair loops on necklaces, watch parts, bezels, and to bond posts to earrings.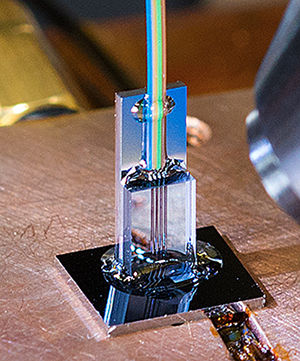 Figure 3: Beam welding is an important process in joining photonics devices. Source: NISTThe electrical and electronics industries are another field taking advantage of the microjoining ability of laser beam welding processes. Electrical and electronics applications include fiber optic couplings, laser diodes, hermetic seals, photonic devices, batteries, electrical relays, sensors, and die bonding of semiconductor interconnects.
Laser welding is beneficial in making the internal and external (tab to terminal) connections during battery manufacturing. Laser welding has become the technology of choice for sealing the battery can seams. Laser welding minimizes the heat input into the thermally sensitive battery materials. A high integrity, hermetic seal is critical in batteries using lithium materials reactive with oxygen or water.

Beam welding is used in manufacturing engine, transmission, body and structural components. Electron beam welding has been used to weld speed gears, torque converters and the tangs on planetary gear assemblies.
The automotive industry has a long history of utilizing laser welding for fabricating tailored blanks. Tailored blanks are constructed by joining several pieces of sheet metal before the tailored blank in pressed into the final shape. The sheet metal pieces joined can have varying thickness, which provides greater section thicknesses in areas with higher stresses and thinner material in areas with lower loads. Laser welded tailored blanks help in lightweighting vehicles.
Beam welding has many applications in the aerospace industry such as jet engines, copper based rocket nozzles, hermetic seal on tanks and welding space reactor fuel elements. On the Eurofighter, titanium fins are joined to fuselage brackets using electron beam welding. Electron beam welding permits the joining of exotic alloys and dissimilar materials found on missiles, space vehicles, satellites and aircraft.
Heavy equipment such as wind turbines, plant machinery, power generation turbines have massive web thicknesses, which can benefit from the ability of beams to weld thick sections. Wind turbine rotor hubs, turbine stators, hydraulic servomotors and large machinery elements are electron beam welded.
Conclusion
While laser and electron beam welding processes have found wide application across many industries, beam welding processes handle only a small amount of welding applications. In fact, according to NIST researcher Brian Simonds, while laser welding is currently used in only 0.5% of welding work, it has the potential to replace 25% of existing welding activities, which if realized could provide many technological, economic and environmental benefits.