Here's Puerto Rico's 10-year, $20-billion electric grid plan
David Wagman | October 31, 2019
Puerto Rico's energy authority released a plan to invest more than $20 billion over 10 years to modernize its electric power grid, which suffered extensive damage as a result of Hurricane Maria, which struck the island in 2017.
The plan includes a more decentralized approach to electric power generation and distribution, including up to eight microgrids, natural gas-fired power plant and cybersecurity and emergency preparedness enhancement.
Officials expect to pay for the upgrades through a combination of Federal Emergency Management Agency (FEMA), insurance claim reimbursement and Community Development Block Grant-Disaster Recovery sources. By the end of the year, a new operator for the island's transmission and distribution system is expected to be named. That operator will be tasked with implementing the repair and modernization plan.
Grid underinvestment
During Hurricane Maria, load centers largely located on the north side of the island were cut off from power generation resources largely sited on the south side of the island when Maria's winds destroyed transmission lines connecting the two.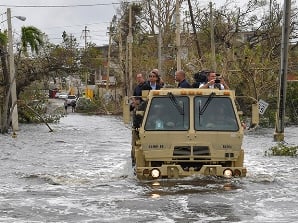 Electric power officials inspect damage to Puerto Rico's grid in the days after Hurricane Maria. Source: New York Power AuthorityThe storm knocked out power to some 3.4 million people. Parts of the U.S. territory were without electricity for more than nine months. One of every four transmission towers was destroyed. The average length of time customers went without power was 84 days, and the event became the longest single power outage in U.S. history.
"This was, in large part, due to decades of underinvestment in our grid," said Puerto Rico's Autoridad de Energia Electrica in presentation in late October that outlined the planned investment. "This cannot happen again."
Renewables plus LNG
The Electrical Grid Modernization Plan (GridMod) is intended to rebuild damaged facilities to higher standards, increase the system's overall reliability and improve the quality of life for residents on the island, which is in its thirteenth year of economic recession.
The plan envisions a grid that is more decentralized and flexible and that will be more affordable to maintain, reduce costs for customers and be more environmentally sound.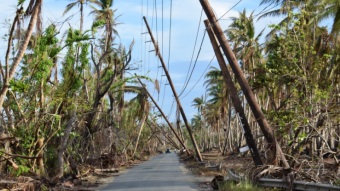 The transmission and distribution system was heavily damaged and is a key part of the GridMod plan. Source: U.S. Army Corps of EngineersA key part of the plan is to use a combination of distributed renewable energy resources such as wind and rooftop solar, battery energy storage technology and liquefied natural gas-fueled power plants. The combination would decentralize the island's grid and move its power generation mix away from fuel oil.
Roughly 2,900 megawatts (MW) of generating capacity on the island currently is powered by #6 fuel oil in plants that were built between 1960 and 1975. The island's total installed generating capacity is roughly 5,800 MW.
Areas of investment
The plan outlines investment over a 10-year period across six areas:
Transmission and substations: An expected $6.5 billion investment to harden the existing infrastructure by reenforcing or relocating existing high- and medium-voltage substations. That work would be done during the first of three "waves" of investment and be completed within three years.
Distribution: An expected $5.7 billion investment to strengthen poles and lines to reduce outages, and to automate and relocate equipment. This work would be completed during the plan's first wave.
Generation and infrastructure: An expected $3.9 billion investment to increase the island's use of renewable energy, reenforce existing power plants and increase reliability. By the third year of the plan, roughly one-third of the planned investment in distributed energy resources would be complete, along with around two-thirds of the investment in LNG-fueled power plants. Another $572 million would be spent on microgrids to further decentralize the electric network and enhance the power authority's ability to isolate future outages.
Technology: An expected $1.8 billion investment to automate grid capabilities and upgrade customer systems. Those investments would come as part of the plan's second wave of development and would peak in year six. Technologies to be deployed would include fault isolation, targeted voltage conversions and distribution automation, and portions of the distribution network would be buried.
Microgrids: An expected $1.8 billion investment to add distributed generation resources to the island's generation mix. This part of the plan would span both the second and third waves of development, extending to the tenth year of the proposal.
Other: An expected $700 million investment to implement physical and cybersecurity systems, as well as emergency preparedness and operational efficiency programs. Updated codes and standards, as well as the emergency preparedness and security enhancements would be part of the first wave of projects.
By year eight, the plan envisions a return to operations spending with a focus on maintenance related activities.
Details of the plan were released the same week that a regulatory agency ordered a rate hike increase that goes into effect November 1. The increase is based on consumption and could range from 64 cents to nearly $2 a month. Puerto Rico governor Wanda Vázquez reportedly said she opposes the rate increase and plans to fight it.