Average Age of Light Vehicles in the U.S. Rises to 11.5 Years, IHS Says
Engineering360 News Desk | July 29, 2015
The combined average age of all light vehicles on the road in the U.S. has climbed slightly to 11.5 years, based on a snapshot of vehicles in operation (VIO) taken January 1, according to IHS Automotive.
Registrations for light VIO in the U.S. also reached a record level of 257,900,000. That's an increase of more than 5.3 million (2.1%) since last year and the highest annual increase the auto industry has seen in the U.S. since IHS began tracking VIO growth. New vehicle registrations also outpaced scrappage by more than 42% – the highest rate seen since the statistic has been tracked, according to the analysis. Scrappage is defined by a vehicle being taken out of the fleet and no longer in use.
Average age for both passenger cars and light trucks increased just slightly in 2015, and both now stand at 11.5 years.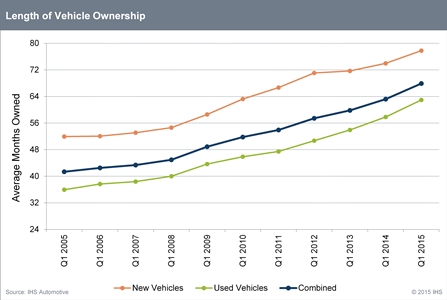 Helping age the fleet is the fact that consumers are holding on to their vehicles longer than ever before. Source: IHS Automotive"As long as we have tracked average age, it has gradually risen over time due to the increasing quality of automobiles," says Mark Seng, global aftermarket practice leader at IHS Automotive. "For the five to six years following the recession, however, average age increased about five times its traditional rate, which we attribute to the nearly 40% drop in new vehicle sales in 2008-2009. We're now seeing average age begin to plateau and return to its traditional rate of increase as consumers have recovered from the great recession and have begun buying new vehicles again."
Helping age the fleet is the fact that consumers are holding on to their vehicles longer than ever before. As of Q1 2015, the average length of ownership for a new vehicle is 77.8 months, according to IHS analysis, an increase of nearly 26 months since Q1 2006. For used vehicles, it is 63 months, an increase of just over 25 months (since Q1 2006).
Looking ahead, IHS forecasts that average age is likely to hit 11.6 years in 2016 but not reach 11.7 until 2018. The rate of growth is slowing as compared to 2008-2013 due to the recovery in new vehicle sales. IHS Automotive has expected this and has been preparing customers and industry leaders in the aftermarket to respond to this slowdown in growth.
The number of vehicles scrapped in 2014 declined slightly from 2013, with just over 11 million light vehicles scrapped during the 12-month timeframe analyzed by IHS Automotive, or 4.4% of the fleet. In comparison, a record high of more than 14 million vehicles were scrapped in 2012.
Dynamics of Fleet Age and Mix on Aftermarket Repair Opportunities
The drop and recovery of new vehicle sales since the U.S. economic recession has also had a significant impact on the various age segments of the overall fleet, which is important to business planners in the aftermarket and service industries as they manage inventories of parts required and plan for sales and service activity accordingly.
Based on the growth of new vehicle registrations in the past few years as the U.S. auto industry has rebounded, IHS Automotive analysis found that the volume of vehicles 0-5 years old will increase by 24% over the next five years, while vehicles in the six- to 11-year-old category will decline by 11%. Because of improved quality and consumers holding their cars and light trucks longer, vehicles 12-plus years old continue to grow and will increase 15% by 2020.
"While the decline in volumes of vehicles six to 11 years old appears to indicate that the aftermarket "sweet spot" – those model years driving the majority of aftermarket repair opportunities – is shrinking," Seng says. "I believe we need to begin thinking about that 'sweet spot' differently. Now that the average age is 11.5 years, the key repair opportunities must include vehicles older than 11 years, which hasn't been considered by many in the marketplace up to now."
When looking at six- to 11-year-old vehicles in 2015, the group includes just over 81 million cars and light trucks. However, by extending that range to include up to 13-year-old vehicles, the number is nearly 108 million and gets to nearly 120 million for six to 14 years old.