Girl Scouts and Microsoft collaborate on new STEM-themed badges
Marie Donlon | October 16, 2019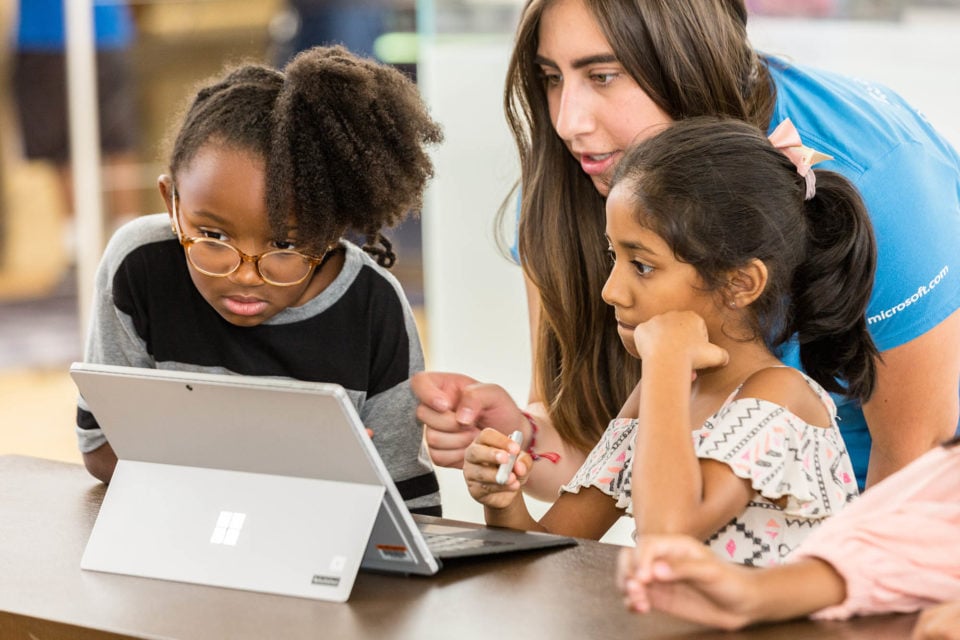 Girl Scouts work on earning a robotics badge at a Microsoft Store in Dallas. Source: MicrosoftGirl Scouts of the USA (GSUSA) has teamed up with Microsoft to offer members a shot at earning one of five new science, technology, engineering and math (STEM)-based badges.
Girl Scouts — from Daisies to Cadettes — can earn badges in computer expertise, digital photography, movie-making and two robotics-themed badges by participating in Microsoft-hosted workshops held in Microsoft stores around the country. During those workshops, Girl Scouts will participate in activities such as creating a PowerPoint presentation using their own digital photographs to earn the digital photography badge, for instance.
In addition to the new badges, Microsoft will also host a leadership series in its stores where Girl Scouts can listen to female leaders in STEM and former Girl Scouts speak on STEM-related topics. The aim behind this series is to give Girl Scouts access to real-life female role models in the STEM fields, which, according to research, encourages girls to pursue STEM careers.
This news follows a July announcement from the GSUSA revealing that it would be adding even more STEM-themed badges to its roster of badges. Those STEM-themed badges included coding, cybersecurity, space science and citizen scientist badges. That installment of badges joins other STEM badges including artificial intelligence and algorithms, introduction to robotics and engineering, meteorology, and race car and aviation design badges, which were added back in 2017.
This is just one of several attempts to encourage girls to pursue STEM careers to close the gender gap that exists within those disciplines where men tend to dominate. Other efforts include STEM-themed dolls and Barbies and foundations designed specifically to inspire girls in their pursuit of STEM careers.