Tapflo launches the new range of filter press pumps
Engineering360 News Desk | October 11, 2019
Tapflo has launched a new product series for feeding of filter presses. These piston-diaphragm pumps are designed for heavy duty applications and are used in almost every automotive production plant in Europe.
More than 25 years ago Steinle Industriepumpen GmbH, a partner of Tapflo in the German market, developed its own piston-diaphragm system used for the feeding of filter presses with a capacity of up to 18 m3/h. The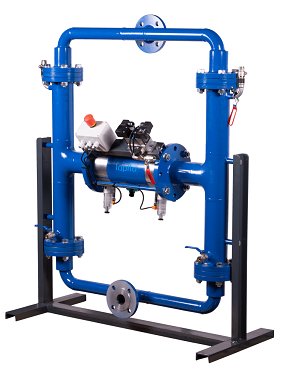 Source: Tapflodesign has gone through five versions with constant quality improvement since 1989. A long relationship between Tapflo and Steinle has resulted in the agreement and transfer of know-how and production from Steinle Industriepumpen GmbH to Tapflo.
The Steinle pump satisfies the need for robust and durable systems in demanding applications where liquid transferred to the filter press requires high-efficiency pumps. Large quantities of liquid are transferred into the empty press as well as small quantities at high pressure when the filter press is filled.
The pump offers high transmission value of the inlet air pressure (up to 1:3.3) to the outlet pump pressure. High pressure in the filter press means a better filter result, lower costs for the removal of the filter cake and a shorter pressing process, together with optimal utilization of the equipment.
Working principle
Compressed air moves the pneumatic piston which is attached to the hydraulic piston. The hydraulic piston moves the hydraulic liquid and acts on the diaphragm hose which also restores its original shape. While the hose is compressed, the slurry inside is displaced and flows out. Ball valves on the top and bottom of the hose ensure that the flow is in one direction only.