Milking robotics, AI to monitor dairy herd health
S. Himmelstein | September 26, 2019
Dairy farmers and the livestock in their care are poised to benefit from advances in robotics and artificial intelligence (AI). These technologies are being tapped by Purdue Polytechnic Institute researchers to help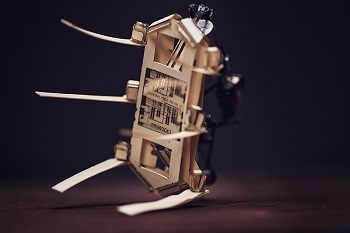 A prototype robotic pill that could give farmers an inside view of the health of each cow. Source: Purdue University/Rebecca Wilcoxfarmers monitor the health of individual cows.
Ingestible robotic pills designed to remain in a cow's stomach will use sensors to transmit data on digestive health to a receiver worn around the animal's neck. If applied across large herds and combined with AI, this approach could result in more efficient agricultural practices, including rapid identification of ailing animals and avoidance of unnecessary antibiotics administration to entire herds.
The polymer-based prototype pill has six legs to facilitate movement between a cow's four stomach compartments. Robotic mobility also enables the low-power devices to maneuver and stay in the desired place instead of being passed through the digestive tract.
The researchers envision future uses of the technology to optimize agricultural land use, improve the efficiency of animal feeding systems and benefit human surgeries.