This oil major is leaving Alaska after 60 years
David Wagman | August 29, 2019
An oil major has agreed to sell its entire business in Alaska to Hilcorp Alaska.
Under terms of the deal, Houston-based Hilcorp will buy all of BP's interests in the state for $5.6 billion.
BP began working in Alaska in 1959 and in the mid-1970s helped build the 800-mile Trans Alaska Pipeline. BP began producing oil from Prudhoe Bay in 1977. The oilfield — one of the most prolific in U.S. history — has produced more than 13 billion barrels of oil. BP said it is estimated to have the potential to produce more than one billion further barrels.

The sale will include BP's entire upstream and midstream business in the state, including BP Exploration (Alaska) Inc., that owns all of BP's upstream oil and gas interests in Alaska, and BP Pipelines (Alaska) Inc.'s interest in the Trans Alaska Pipeline System (TAPS).
In 1968, BP bought Standard Oil of Ohio, one of the earliest units of John D. Rockefeller's Standard Oil. At the time, Sohio (as it was known) was developing the Prudhoe Bay oilfield. When production there reached 600,000 barrels per day, BP took control of Sohio.
Alaskan oil
According to the Department of Energy (DOE), Alaska's proven crude oil reserves of 1.6 billion barrels at the beginning of 2017 were the sixth largest of any state. Most of Alaska's crude oil production occurs on the North Slope. The state's annual oil production during 2017 was the highest in three years, and output was just under 500,000 barrels per day. That was down from its peak of 2 million barrels per day in 1988. Monthly production in the summer of 2018 fell below 400,000 barrels per day for the first time since 1977, the DOE said. Starting in 2003, Alaska's annual oil production declined steadily as the state's oil fields matured, but it has remained one of the top five crude oil-producing states in the nation.
Known oil reserves on the North Slope have not yet been tapped, and large areas of the state remain unexplored. In 2017, oil exploration and drilling was no longer prohibited in the Arctic National Wildlife Refuge (ANWR), and the Department of the Interior announced plans to lease tracts along the refuge's 1.6 million-acre northern coastal plain to energy companies.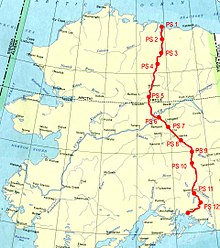 Trans-Alaska Pipeline System. Source: WikipediaThe U.S. Geological Survey estimates that the ANWR coastal plain holds 10.4 billion barrels of crude oil. The Energy Information Administration doesn't expect ANWR oil production to start until 2031 because of the time needed for energy companies to acquire leases, explore and develop the required production infrastructure.
The Trans-Alaska Pipeline System transports crude oil to the warm-water port at Valdez, on Alaska's southern coast. The pipeline marked its 40th anniversary in 2017 and can carry more than 2 million barrels per day. Actual deliveries have been less than 1 million barrels per day since 2003, the Energy Department said, although pipeline shipments began increasing in 2016.
Lower volumes cause the oil to move more slowly in the pipeline, and the slower oil results in colder oil, which creates challenges for the pipeline's operators. The amount of time it takes for oil to travel through the pipeline from the North Slope to the Valdez port has increased from 4.5 days in 1988 to 18 days in 2018.
DOE said that almost 80% of the oil produced in Alaska in 2017 was transported by tankers to refineries in Washington and California. Another 15% of the state's oil production was refined in Alaska, and the remaining 5% was shipped to Hawaii or exported to international destinations.
Divestment
The sale by BP is part of its two-year $10 billion divestment program aimed at strengthening the company's balance sheet.
Under terms of the agreement, Hilcorp will pay BP $5.6 billion, including $4.0 billion payable near-term and $1.6 billion through an earnout. Subject to state and federal regulatory approval, the sale is expected to be completed in 2020.
BP said that its net oil production from Alaska in 2019 is expected to average almost 74,000 barrels a day. BP operates Prudhoe Bay, with a working interest of 26%, and holds non-operating interests in the producing Milne Point and Point Thomson fields. It also holds non-operating interests in the Liberty project and exploration lease interests in the ANWR. In addition to shares in TAPS and its operator the Alyeska Pipeline Service Company, BP is divesting its midstream interests in the Milne Point Pipeline and the Point Thomson Pipeline.
Hilcorp has been operating in Alaska since 2012 and is today one of the largest private oil and gas operators in the state, currently operating more than 75,000 barrels of oil equivalent a day (boe/d) gross production. In 2014, Hilcorp purchased interests from BP in four operated Alaska North Slope oilfields.
In late 2018, BP acquired a portfolio of onshore U.S. oil and gas interests from BHP for $10.5 billion, adding 190,000 boe/d net production. BP said it also continues to develop its business in the deepwater Gulf of Mexico. The new $9 billion Argos platform on the Mad Dog field is expected on stream in 2021.