Wooden chips shrink medical device environmental footprint
S. Himmelstein | August 22, 2019
The availability of single-use, pre-sterilized medical devices, such as syringes and catheters, can improve patient safety by reducing rates of hospital-acquired infections. However, reliance on these plastic-based tools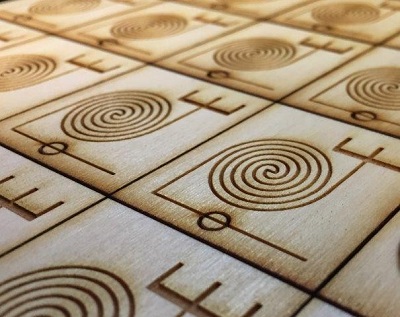 Wood microfluidic devices could analyze small amounts of liquids in a more environmentally friendly way. Source: Adapted from Analytical Chemistry 2019, DOI: 10.1021/acs.analchem.9b01232adds substantially to the health sector's waste and environmental burden. Wood has been demonstrated as an alternative and more sustainable material for one single-use application: Microfluidic diagnostics.
Birch plywood-based microfluidic chips were fabricated by University of Maryland researchers using laser engraving to form the required channels for transporting fluid samples. Liquid seepage into the material was prevented with a thin coating of Teflon, and different devices were designed for specific applications.
Colored food dyes were demonstrated to mix efficiently when introduced to the T- and Y-shaped microfluidic channel inlets. Measurements obtained for protein fluorescence intensities and bacterial concentrations were comparable to those documented with conventional plastic microfluidic systems.
The wooden platforms cost 10 to 100 times less than their plastic counterparts and will become more environmentally sustainable with the use of natural oils or other renewable material instead of the Teflon coating.