Fake! Combatting the Global Rise of Counterfeit Bearings
Jonathan Fuller | July 21, 2015
The manufacture of counterfeit bearings is on the rise and is negatively affecting an otherwise healthy global industry.
Counterfeiting is now a global issue for manufacturers and distributors alike due to technological advancements and the growth of manufacturing in developing countries. Counterfeit goods infiltrate legitimate industrial distribution channels and are increasingly difficult to identify before reaching consumers.
Swedish bearing manufacturer SKF estimates that the global rolling bearing market topped $40 billion in 2014. Global Industry Analysts expects the market as a whole to exceed $101 billion in 2018 due to the gradual recovery of the rail, automotive and aerospace industries. China represents the largest emerging global market, accounting for about 25% of the world bearing market, according to SKF.
The market's lucrative nature and rising demand fuel widespread counterfeiting. In turn, manufacturers are often forced to undertake litigation against counterfeiters. Overhead costs are also on the rise because of the need for dedicated anti-counterfeiting personnel as well as additional staff hours to handle customer complaints. While counterfeit consumer goods harm the reputations and bottom lines of well-known brands, counterfeit bearings can do physical damage.
"If your counterfeit Gucci handbag's strap falls off, no one gets hurt," says Timothy Gifford, senior vice president and general counsel at SKF USA. "[But] could you imagine if a counterfeit bearing fails on a wind turbine and the turbine falls off? That could be very dangerous."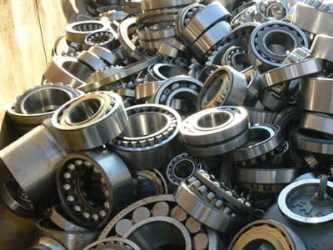 Schaeffler and SKF crushed and recycled 66 million metric tons of fake rolling bearings seized in raids between 2007-2012. Image source: SKFFinancial losses associated with counterfeit products are difficult to quantify. Manufacturers suffer from lost sales and costs associated with investigating, confiscating and disposing of fake bearings. German manufacturer Schaeffler crushed and recycled 66 metric tons (some 72 short tons) of fake rolling bearings seized in raids from 2007 and 2012. The destroyed counterfeits carried a total market value of around €9 million ($9.76 million).
Rising Threat to Manufacturing
Counterfeiting is often perceived to be limited to small consumer-oriented rolling bearings, such as those found in pumps and automotive vehicles. However, SKF says that quantities of large-sized counterfeit bearings are also being discovered in industrial applications, such as manufacturing and mill equipment and large generators. Failure of these bearings can cause production delays following shutdowns, as well as equipment damage and—at worst—injury or loss of life upon catastrophic failure.
Counterfeit bearings often appear identical to genuine parts. Gifford says that counterfeiters have developed the ability to produce counterfeit packaging with identical company logos, serial numbers and even UPC codes in many cases. The parts themselves are manufactured cheaply using poor quality materials and suspect labor practices, or are old bearings that have been refurbished. These refurbished parts look genuine and brand new out of the box, but may crack and disintegrate after a few dozen hours of use.
Sophisticated techniques make counterfeits almost indistinguishable even to manufacturers. A fake bearing is often so convincing that a manufacturer must analyze its material composition to determine that it is counterfeit.
Gifford estimates that more than 90% of counterfeit bearings may be produced in illegitimate shops in Asia, including China, Taiwan and Hong Kong. Widespread industrialization and infrastructure development in the Asia Pacific region have catapulted China into position as one of the dominant regional bearings manufacturing markets. Because counterfeiting poses a threat to the growth of legitimate Chinese manufacturing, local authorities have been working with international anti-counterfeiting organizations to combat the problem. According to the American Bearing Manufacturers Association (ABMA), Chinese customs seized more than 2.2 million counterfeit bearings destined for 50 countries between 2009 and 2011.
The rise of illegitimate manufacturing has sparked an increase in raids and other countermeasures. In the U.S., the Customs and Border Protection (CBP) and Immigration and Customs Enforcement (ICE) agencies—both parts of the Department of Homeland Security—are active in combating counterfeit. From January to June 2015 the CBP made eight seizures of SKF branded bearings, all of which arrived at the port of Miami, Fla. And in 2014, CBP and ICE made more than 23,000 seizures of counterfeit goods of all sorts with a total value of $1.2 billion.
Raids Intercept Counterfeits
Recent high-profile raids included manufacturer participation. In June 2014, several manufacturers, including SKF and NTN, teamed with the Naval Criminal Investigative Service to raid a bearing storage location in Charleston, S.C. SKF and NTN identified suspect bearings on-site, leading to the seizure, analysis and confirmation of hundreds of counterfeit bearings. Two additional raids in a Houston, Texas warehouse later in 2014 turned up $500,000 worth of counterfeit ball bearings labeled with SKF and another manufacturer's markings.
In 2006, ABMA, the Federation of European Bearing Manufacturers Associations and the Japan Bearing Industrial Association formed the World Bearing Association (WBA), which operates an anti-counterfeiting website. The site provides promotional materials such as posters, web site banners and videos to help spread awareness of counterfeiting. WBA maintains an Anti-Counterfeiting Committee and has held educational seminars and meetings with customs officials in various Chinese cities, including Shanghai and Tianjin. (Watch a video on counterfeit bearings.)
Most counterfeiting affects aftermarket parts, as OEMs use authorized distributors that source parts directly from manufacturers. In the automotive industry, where passenger safety is paramount, fake aftermarket parts—such as airbags, bearings and brake pads— are found on an increasing basis. However, Gifford says original counterfeits can sometimes make their way into a legitimate supply chain when authorized distributors may cut corners and source parts from unauthorized third-party distributors. For example in 2014, auto manufacturer Aston Martin found that a subcontractor used counterfeit DuPont plastics to produce accelerator pedal arms. The automaker recalled nearly 18,000 vehicles manufactured between 2007 and 2014—about 75% of the total produced during that time—due to reports of failed parts.
Gifford says that customers can avoid purchasing counterfeit bearings by using authorized distributors. The WBA advises contacting the manufacturer immediately if a customer suspects that he or she has purchased fake parts.
Customers can also use Authenticate, a mobile app developed by SKF, to identify fake bearings. Authenticate allows smart phone and tablet users to photograph parts and packaging and send the images to SKF for verification and guidance.