Neural network camera system creates composite images of difficult subjects
Engineering360 News Desk | August 19, 2019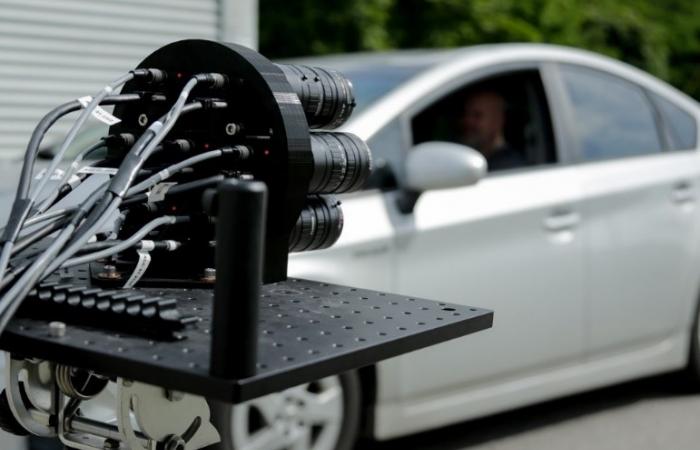 An early prototype of the optical array developed by Oak Ridge National Laboratory. Source: Butch Newton/Oak Ridge National Laboratory, U.S. Dept. of EnergySecurity and identity solutions company Idemia Identity & Security USA has licensed new imaging technology that compiles images from multiple cameras into high-quality composite images.
The technology can capture clear images of individuals in challenging environments. For example, the portable optical array system reportedly can capture usable images of people inside moving vehicles. The system overcomes flaws such as low contrast, distance and glare, which are characteristics of subjects photographed outdoors, including through windshields.
This is achieved, according to researchers, through an array of camera lenses that demonstrate sensitivity to both light intensity and direction. Once captured, the images are enhanced with help from machine learning, eventually becoming composite images. The technology was developed at the Department of Energy's Oak Ridge National Laboratory (ORNL).
"The technique takes advantage of light field imaging techniques and a computational neural network to address challenges in identity verification, including motion blur, poor lighting conditions, head pose and surface reflection," said project lead and co-inventor Hector Santos-Villalobos. Other ORNL inventors include Justin Baba, Philip Bingham, David Bolme, Matthew Eicholtz, Regina Ferrell and Christi Johnson. David Cornett III and Seth Baird of ORNL also contributed to the project.
For Idemia, the technology could be used to move vehicles through critical checkpoints more rapidly, improving efficiency, according to the company.
Likewise, the technology could have additional use cases including in long-range identity verification, in-vehicle recognition, and as a feature in traffic monitoring systems and vehicle navigation systems.