Watch how smartphone selfies can measure blood pressure
S. Himmelstein | August 15, 2019
The conventional means of measuring blood pressure with a sphygmomanometer, or arm cuff meter, might one day be replaced by brief videos, captured with a smartphone, of a patient's face.
Such a contactless diagnostic method was developed by researchers from University of Toronto, Canada; Zhejiang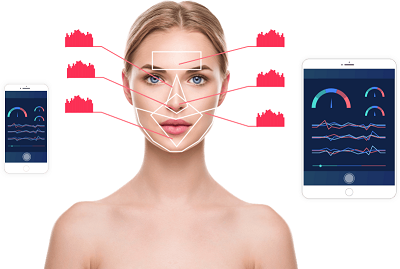 A system that measures blood pressure using smartphone video is currently 95% accurate. Source: NuralogixNormal University, China; and Hangzhou Normal University, China. It is a smartphone-based technology called transdermal optical imaging. The optical sensor on a smartphone captures the reflected red light from hemoglobin, which allows the technology to visualize and measure blood flow changes under the skin. The method processes imperceptible facial blood flow changes from videos taken with the smartphone camera and uses advanced machine learning to determine blood pressure from this optical data.
The diagnostic approach was tested by measuring the blood pressure of 1,328 adults by capturing two-minute videos of their faces on an iPhone. The smartphone-based method proved 95% accurate when compared with clinical cuff-based blood pressure measurement, both for systolic and diastolic numbers.
A startup company formed by the researchers has launched a commercial app designed to measure stress levels and resting heart rate from 30-second videos of a user's face. A similar version to be released in China will return blood pressure measurements.