SCBA 101: Self-contained breathing apparatuses and supplied air respirators with an escape self-contained breathing apparatus
August 13, 2019
Sponsored Content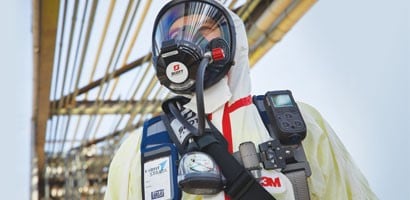 Figure 1. The SCBA is a key item in the industrial safety inventory. Source: 3M ScottIn an industrial environment, a self-contained breathing apparatus (SCBA) or a supplied air respirator with an emergency escape cylinder (SAR/ESCBA) is like a catastrophic insurance policy: you know you need one and you hope you will never have to use it. But if you do use it, it had better work flawlessly.
Here is a quick introduction to industrial SCBAs, plus some key questions to ask before purchasing a unit.
The National Institute for Occupational Safety and Health (NIOSH) certifies SCBAs and SAR/ESCBAs. NIOSH is a federal agency that is part of the Centers for Disease Control and Prevention (CDC). The National Fire Protection Association (NFPA) issues additional certifications for equipment used to fight fires. If an NFPA-compliant unit is not required, then there are other NIOSH-approved SCBA options available.
History and function of SCBAs
SCBAs date back over 150 years with the earliest units used by the London Fire Brigade and fire departments in New York City and Boston. Today, municipal and military first responders remain the largest users of SCBAs, though there are SCBAs designed specifically for other applications.
A NIOSH-approved SCBA is appropriate for confined-space applications where there may not be enough oxygen to support life or the levels of contaminants exceed immediately dangerous to life or health (IDLH) concentrations. NIOSH publishes a list of IDLH values for a wide range of substances; the values are established to ensure that the worker could escape from a contaminated environment if the respiratory protection equipment fails, and to establish a maximum level above which only a supplied air breathing apparatus is permitted.
In addition to NIOSH establishing IDLH values, they also certify SCBAs. The open-circuit pressure-demand system is the most common type of SCBA. The pressure inside the facepiece is positive during both inhalation and exhalation, relative to the outside environment. Thus if there is ever a leak, it will always leak outward, keeping contaminants from coming into the facepiece. Open-circuit means that the wearer's exhaled breath is vented and not rebreathed.
What is in an SCBA or an SAR/ESCBA?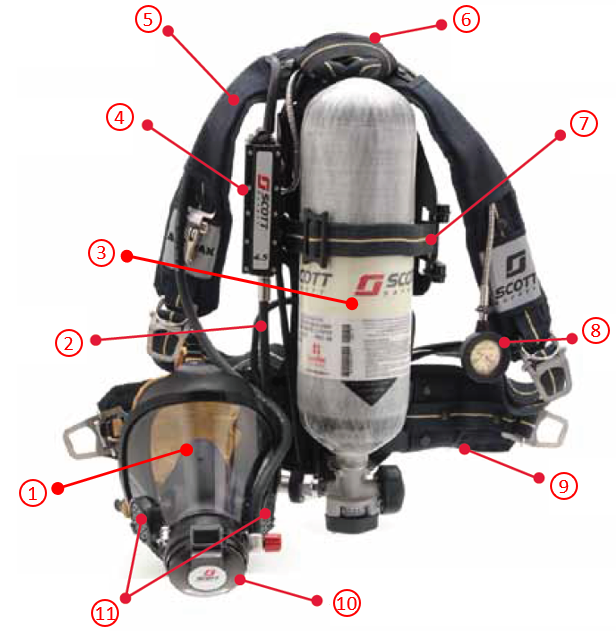 Figure 2. Major sub-assemblies of 3M Scott's Air-Pak 75i. Source: 3M Scott
A NIOSH-approved SCBA must have the following features: a back-frame with straps; an air cylinder; a pressure reducer and regulator; a full facepiece; a remote pressure gauge; and a low-pressure alarm. Figure 2 shows 3M Scott's Air-Pak 75i with both required and optional features:
Full facepiece assembly
Integrated carrying handles
Air cylinder; available in variety of working times and pressures (2216, 4500 and 5500 psig are common)
Automatic, dual-path, redundant, pressure-reducing regulator
Padded shoulder straps
Drag rescue loop
Center cylinder adjustment band
Remote pressure gauge
Padded waist belt
Removable, facepiece-mounted, positive-pressure breathing regulator with a vibrating alert to indicate low air
Mechanical speaking diaphragm for communication clarity
Other optional accessories can include:
An emergency breathing support system (EBSS) that lets two users share a single cylinder if one runs low; often called a "buddy breather."
An extended-duration airline connection that permits a user to hold a cylinder's air in reserve while tapping into a remote air source.
A rapid intervention crew/universal air connection (RIC-UAC) that allows air to be supplied from another compressed air source to a user who is low on or has run out of air.
Interface accessories to connect to a two-way radio system.
Heads-up display (HUD): a module external to the mask that provides visual information about the remaining air.
The regulatory environment for SCBAs or SAR/ESCBAs
In the U.S., an SCBA must be approved by NIOSH after an exhaustive number of tests. In addition to NIOSH, some other relevant standards-setting organizations are:
ANSI (American National Standards Institute)
NFPA (National Fire Protection Association)
UL (Underwriters Laboratories)
The table below lists a few examples: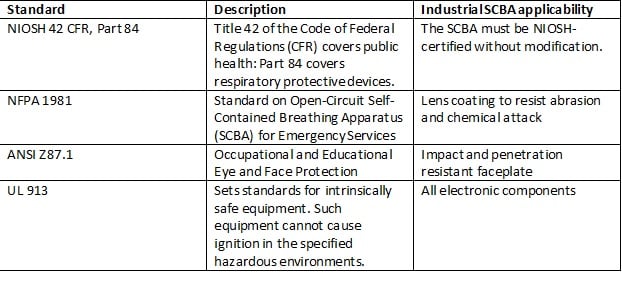 Table 1.
What kind of SCBA or SAR/ESCBA is required?
A few questions can help determine the appropriate feature set of a new system.
For example, what is the level of the respiratory hazard in the workplace? If it is IDLH conditions and mobility is desired, the user will need a full-facepiece, pressure-demand SCBA certified by NIOSH. If not, a lesser protection factor option such as a powered air-purifying respirator (PAPR) or air-purifying respirator (APR) might be suitable.
There is a large selection of cylinders with different pressures and duration times available. Does the actual duration time of the air cylinder match the projected work time? For example, a 75-minute air cylinder is a great option for hazardous material teams.
However, if the duration in the IDLH environment is going to be extended, a supplied air respirator with an emergency escape cylinder (SAR/ESCBA) offers an almost unlimited amount of time in the hazardous space. Talk to an industrial hygienist or safety professional to determine what is required.
Questions to ask before buying
To be sold in the United States, every SCBA must have NIOSH approval. It is important to note if individual components meet other standards, such as ANSI or NFPA.
What is the true cost of ownership (TCO)? The purchase price is only the initial cost. Over time, recurring costs can amount to a considerable additional sum.
Some additional TCO-related questions are:
What other respirators might be able to use the same facepiece to decrease the cost of fit testing and training?
What is the required maintenance interval and what is involved? One SCBA may specify a low-cost service operation on a two-year cycle, yet another may only need maintenance every six years but requires a complex or expensive overhaul procedure.
Can employees perform maintenance onsite? Some repairs are simple and require only standard tools. Having a certified repair technician onsite will eliminate the need to send the SCBA to the vendor.
Does the vendor offer onsite training?
Does the vendor offer service or service training?
What is the projected usage pattern? Is the SCBA intended to be used rarely for emergencies (or hopefully not at all) but is a regulatory requirement, or is regular use expected? If the latter, factor in the cost of recommissioning the unit after a deployment.
How about repairs? Does the vendor offer onsite repairs? If not, do they offer a loaner program?
Ease of use is another issue.
Can all controls be easily operated when wearing gloves?
How do the downward and peripheral vision of the different facepieces compare during operations such as ascending stairs or ladders?
How easy is it to understand voice communication while wearing the facepiece?
Will the system easily integrate with common radio communication equipment?
Vendor representatives should be able to answer these questions to complete satisfaction. If not, look elsewhere, or call 3M Scott Fire & Safety to learn more.
About 3M Scott Fire & Safety
Now a 3M company, 3M Scott Fire & Safety has been a key contributor to SCBA development for decades. 3M Scott's current product line includes several NIOSH-approved SCBAs and SAR/ESCBAs for non-NFPA l use, including the Air-Pak 75i, iSCBA and ACSi models in addition to the Ska-Pak Supplied Air Respirator family.
Visit the 3M Scott Fire & Safety webpage for more information.