A220 aircraft production starts in Alabama
David Wagman | August 05, 2019
Airbus began manufacturing the A220 in an Alabama plant on August 5.
The aircraft manufacturer announced plans for the plant in Mobile, Alabama, in October 2017. Construction on the main A220 flowline hangar and other support buildings began in early 2019. The first A220 to roll off the production line — an A220-300 destined for Delta Air Lines — is scheduled for delivery in the third quarter of 2020.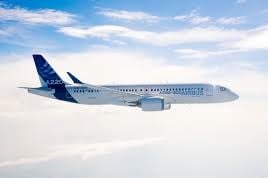 Production of the single-aisle aircraft began in August. Source: AirbusBy the middle of the 2020s, the facility is expected to produce between 40 and 50 A220 aircraft per year.
The A220 includes Pratt & Whitney's PW1500G geared turbofan engines that are expected to provide roughly 20% lower fuel burn per seat compared to previous generation aircraft. Airbus said that as of the end of June it had booked orders for 551 of the aircraft. The A220 competes in the 100-to-150-seat aircraft market that the company said could represent 7,000 aircraft over the next 20 years.
Among its other facilities in the U.S., Airbus has engineering centers in Kansas and Alabama; training facilities in Florida and Colorado; materials support and headquarters in Virginia; an innovative think tank in California; a drone data analysis business in Atlanta; helicopter manufacturing and assembly facilities in Texas and Mississippi; and a satellite manufacturing facility in Florida.