First evidence of atmospheric mercury nanoparticles
S. Himmelstein | July 31, 2019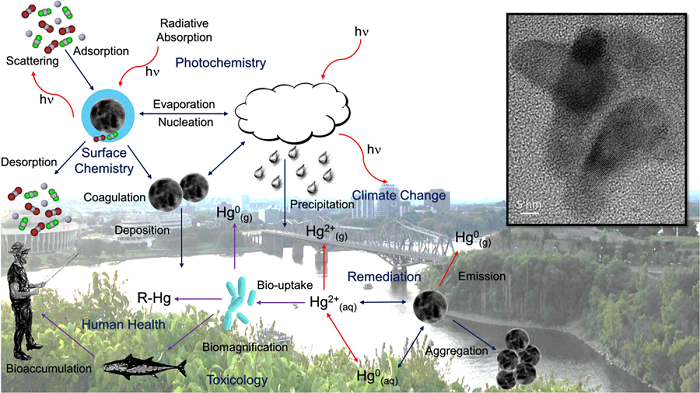 The detection of mercury-containing nanoparticles in urban air and the implications of mercury-containing nanoparticles on the biogeochemistry of atmospheric mercury. Source: A. Ghoshdastidar and P. Ariya
Mercury is a ubiquitous environmental contaminant that bioaccumulates in organisms. It is found in atmospheric, water and soil samples worldwide. A previously unknown form of atmospheric mercury has been documented by researchers from McGill University, Canada, in urban air samples from Montreal.
The existence of nanosized mercury in air was confirmed using high-resolution scanning transmission electron microscopy imaging of aerosols. Sub-micron particulate mercury concentrations measured were on the order of 50–100 picograms/m3 with the highest concentrations at the lowest cut-off of 180 nm. This is far smaller than the typical 450 nm accumulation mode for particulate-bound mercury.
The nanoparticles described in Scientific Reports contained mercuric bromide and mercuric chloride and these may contribute to half of the oxidized mercury measured in the air during Montreal winters. The newly recognized mercury-containing nanoparticle contaminants are expected to affect physical processes such as wet and dry deposition and chemical processes including plume chemistry.