Watch: A moonlit tribute to an Apollo pioneer
David Wagman | July 29, 2019
To celebrate the 50th anniversary of humans landing on the Moon, a solar power plant in the California desert created a portrait of Margaret Hamilton. While working at the MIT Instrumentation Lab in the 1960s, she was instrumental in writing code for the Apollo Guidance Computer.
The tribute was created by positioning more than 107,000 mirrors at the Ivanpah Solar Facility in the Mojave Desert to reflect the light of the moon. The result is a 1.4-sq-m portrait of Hamilton, larger than New York's Central Park.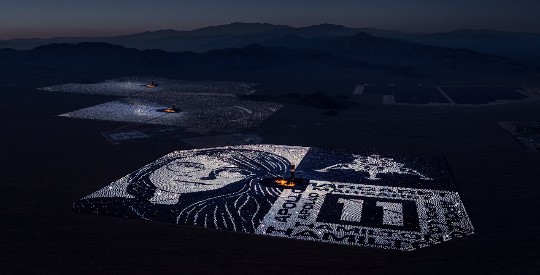 The solar power plant's heliostats were arrayed to reflect moonlight, creating the tribute to the Apollo pioneer. Source: GoogleThe Ivanpah Solar Electric Generating System is a concentrated solar thermal plant in the Mojave Desert. It has a gross capacity of 392 megawatts. It deploys 173,500 heliostats, each with two mirrors focusing solar energy on boilers located on three centralized solar power towers. The first unit was connected to the electrical grid in September 2013.
The facility cost $2.2 billion and was developed by BrightSource Energy and Bechtel. The largest project investor was NRG Energy which contributed $300 million. Google contributed $168 million and the federal government provided a $1.6 billion loan guarantee.
In operation, fields of heliostats focus sunlight on receivers located on centralized solar power towers. The receivers generate steam to drive specially adapted steam turbines.