Researchers infuse glass with nanoparticles, making it five times tougher than untreated glass
Marie Donlon | July 17, 2019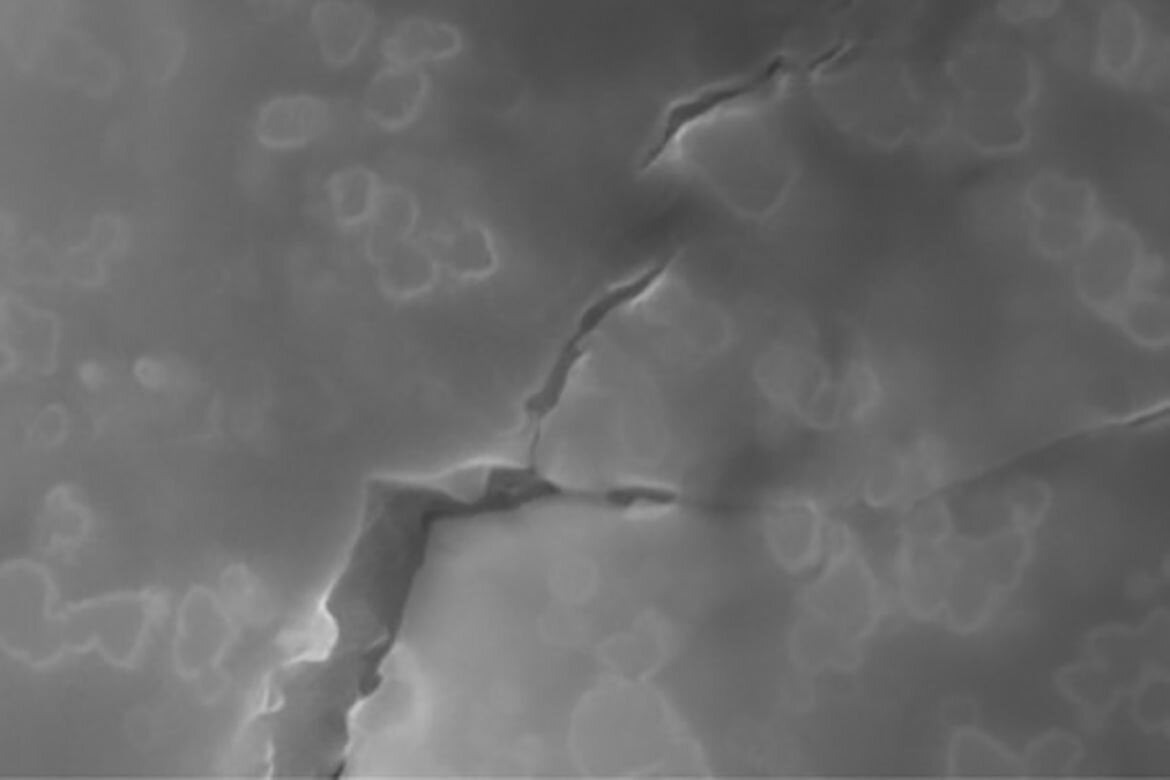 An electron microscope image of a new, tougher glass developed at UCLA, showing how nanoparticles (rounded, irregular shapes) deflect a crack and force it to branch out. Source: SciFacturing Lab/UCLAMechanical engineers and materials scientists at the University of California, Los Angeles (UCLA), have devised a method for using nanoparticles to strengthen glass, making it five times tougher than any other currently available glass.
Inspired by the atomic structure of metals, which can endure "pounding" without breaking, the UCLA team reasoned that by infusing nanoparticles of silicon carbide (a ceramic that resembles metal) into glass, the end product would be capable of absorbing more energy before failing. To determine this, the team added the nanoparticles to molten glass at 3,000° F, which helped to evenly disperse the nanoparticles. Once solidified, the nanoparticles served as an obstacle to potential fracturing. If, however, a fracture did occur, the nanoparticles would branch out into minute networks instead of a straight path. This branching out enables the glass to absorb considerably more energy from a fracture before causing considerable damage.
Toughness in materials science is defined as a measure of the amount of energy a material can absorb and how much it deforms without fracturing. Although brittle material like glass and ceramics can be reinforced with external treatments such as chemical coatings, those techniques do not change the atomic structure of glass and ceramics, which remain brittle.
"The chemical bonds that hold glass and ceramics together are pretty rigid, while the bonds in metals allow some flexibility," said Xiaochun Li, professor of manufacturing at the UCLA Samueli School of Engineering, and the study's lead investigator. "In glass and ceramics, when the impact is strong enough, a fracture will propagate quickly through the material in a mostly straight path.
"When something impacts a metal, its more deformable chemical bonds act as shock absorbers and its atoms move around while still holding the structure together."
Although the end product of the UCLA method was reportedly milky glass, Li explained that the technique could be fine-tuned to generate clear glass. The UCLA team also believes that its technique of infusing nanoparticles into glass could result in glass that is appropriate for industrial applications such as the manufacturing of tools and engine parts capable of withstanding high temperatures and doors, tables and other architectural design elements. Likewise, the team suggests that the material could be used to produce stronger, tougher ceramics for use in spacecraft components.
The study appears in the journal Advanced Materials.