Watch: This nuclear reactor is now entirely digital, a rarity in the U.S.
David Wagman | July 10, 2019
The U.S. Nuclear Regulatory Commission has licensed Purdue University Reactor Number One (PUR-1), which the university said is the first entirely digital nuclear reactor instrumentation and control system in the country.
The reactor and facility, originally built in 1962, could aid the widespread implementation of digital technology in both research and industry reactors.
Clive Townsend, supervisor for Purdue's reactor, said, "We're going from the vacuum tubes and hand-soldered wires of the '60s, to LEDs, ethernet cables and advanced electronics."
Traditional analog consoles make it difficult to take research data accurately and quickly, the university said. A digital system allows values to be measured instantly and means that more data can be processed and analyzed. Capabilities that may be possible include predictive analytics, machine learning and artificial intelligence.
Purdue's reactor is licensed to produce up to 1 kilowatt of thermal power, roughly the energy demand of a hair dryer or a toaster. The reactor's core is 2 ft3 in volume and sits at the bottom of a 17 ft deep cooling pool of water that measures 8 ft in diameter. This allows the core to be viewed while it is operating.
Fuel conversion
The PUR-1 originally used highly enriched, or "weapons-grade," uranium as fuel. In 1982, the government began to convert civilian reactors to low-enriched uranium. Conversion of the Purdue reactor was completed in 2007.
Over the years, the NRC has been deliberate in considering and approving digital control equipment in the nation's fleet of nuclear generating stations. Many control rooms at commercial reactors continue to feature banks of analog controls, displays and switches.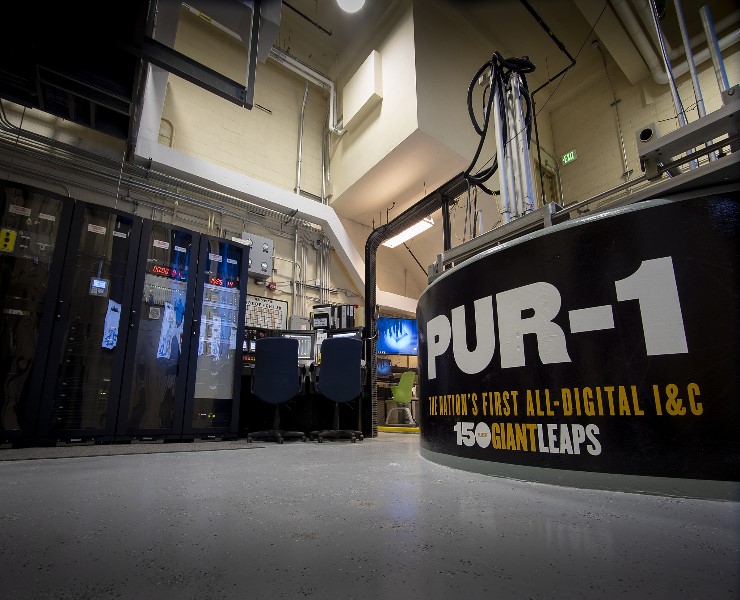 Purdue developed and built the digital system along with Mirion Technologies and the Curtiss-Wright Corp. Source: Purdue University/Vincent Walter The digital conversion of PUR-1 began in 2012, when the U.S. Department of Energy awarded Purdue a grant through its Nuclear Energy University Program to replace reactor equipment with an upgraded instrumentation and control system. Purdue developed and built the digital system along with Mirion Technologies and the Curtiss-Wright Corp.
Some of the parts included in the NRC approval are certified under the German Nuclear Safety Standards Commission (KTA), rather than domestic U.S. standards. Historically, the NRC has accepted only parts certified under domestic standards, which Purdue said are generally cost-prohibitive for use. The NRC accepted the German-certified parts through the agency's initiative for a "risk-informed and performance-based" regulatory process.