Watch: Window film makes the MOST out of solar heat gain
S. Himmelstein | July 08, 2019
The solar heat admitted by windows during the summer in many regions can make the indoors uncomfortably hot, causing inhabitants to turn to their energy-guzzling air-conditioning systems for relief. A new window film has been fabricated by researchers from Chalmers University of Technology, Sweden, and the University of Adelaide, Australia, to make the MOST (MOlecular Solar Thermal Storage) out of the seasonal solar heat gain.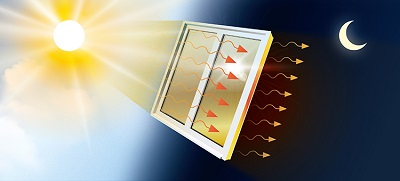 The molecular photoswitch captures energy from the sun and releases it later as heat. Source: Yen Strandqvist/Chalmers University of TechnologyThe polymer film captures and stores the heat for other uses while improving interior thermal comfort conditions without the expenditure of electrical or other forms of energy consumed for cooling.
The film incorporates norbornadiene-quadricyclane molecular photoswitches that isomerize into a saturated form as energy is absorbed. The process is reversible: heat is released as the material reverts back into its unsaturated state.
When initially applied to a window, the film has a yellow-orange tint and becomes colorless as it captures solar energy and prevents heat from penetrating the glass. At dusk, the material begins to release its stored energy, warming up and functioning as a heating panel as the outside temperature drops, resuming its tint and starting the energy-absorbing cycle again in the morning.
Tests demonstrated that the MOST window film described in Advanced Science is capable of absorbing sunlight with estimated solar energy storage efficiencies of up to 3.8% with energy storage densities of up to 0.48 MJ/kg.