Skin oils and clothing combine to affect indoor air quality
S. Himmelstein | July 02, 2019
Many of our personal habits contribute in some way to environmental degradation. Driving a car adds a minuscule amount to the planetary burden of greenhouse gases, while that plastic packaging tossed in the trash will likely endure for eons in the local landfill. Now one's skin and clothing are implicated as generators of pollutants of the indoor kind.
Skin oils and clothing interact with ambient ozone in indoor environments, producing a range of volatile and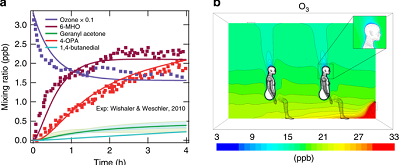 Spatial distribution of ozone and squalene ozonolysis products in a room. a) Average concentrations of ozone and four squalene ozonolysis products with an initial ozone concentration of 33 ppb. b) Spatial distribution of ozone. Source: P. Lakey et al.semi-volatile substances. Squalene, fatty acids and other compounds originating in the skin accumulate in clothing with time — the longer garments are worn without washing, the more saturated with skin oils they become, leading to a higher chance of reaction with ozone. The result is the formation of carbonyls and other organic compounds, which in turn can irritate the skin and lungs.
A modeling analysis conducted by researchers from the University of North Carolina, the University of California Irvine and Pennsylvania State University confirmed that clothing can impact indoor air quality and human exposure to ozone and carbonyls. Squalene may persist in clothing for several days in the low-ozone environment typical of U.S. residences and clothing can release substantial amounts of carbonyls once ozone levels become elevated. Bedding and other materials also have potential to contain high concentrations of squalene and could also become a major source of carbonyls indoors under elevated ozone conditions, especially if it is not laundered regularly and skin oils accumulate within it.
According to the research published in Communications Chemistry, clean clothing can reduce the concentration of species being absorbed into the skin by acting as a protective barrier, whereas clothing which has had time to absorb these compounds from the gas phase before wearing may act as a source of the compound, leading to an increase of dermal uptake compared to bare skin.