Researchers revisit methane hydrates and like what they found
David Wagman | June 28, 2019
Research from the University of Texas at Austin shows that injecting air and carbon dioxide into methane ice deposits buried beneath the Gulf of Mexico could unlock natural gas energy resources while trapping the carbon dioxide underground.
The study, published in the journal Water Resources Research, used computer models to simulate what happens when mixtures of carbon dioxide and air are injected into deposits of methane hydrate, an ice-like, water-rich chemical compound that forms in high-pressure, low-temperature environments, such as deep in the Gulf of Mexico and under Arctic permafrost.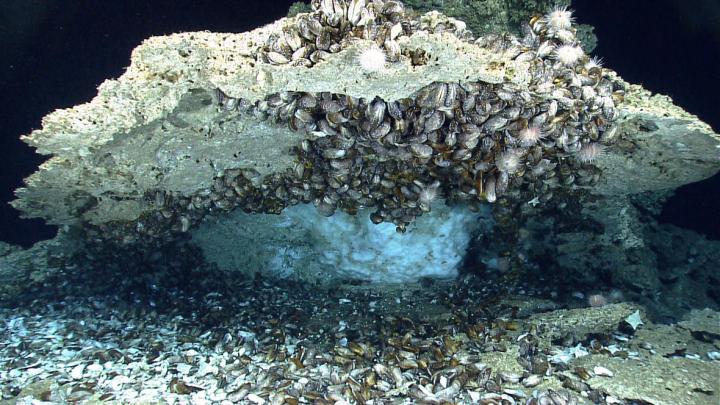 Gas hydrates, shown here on the Gulf of Mexico floor, are an ice-like material that form naturally under extreme pressure in low temperature environments where water is abundant. Credit: NOAANitrogen in the injected air sweeps the methane toward a production well and allows carbon dioxide to take its place, researchers said. The approach extracts natural gas from methane hydrate deposits and stores carbon dioxide in an environment where the researchers said it is "unlikely" to be released into the atmosphere.
Hydrate deposits previously have been proposed for carbon dioxide storage. The researchers said that these earlier attempts either failed or produced lackluster results.
In the paper, the authors said that a process in which one type of molecule trapped in the hydrate is exchanged for another (called guest molecule exchange) is a two-stage process and not a single, simultaneous process, as it was previously thought to be.
First, nitrogen breaks down the methane hydrate. Second, the carbon dioxide crystalizes into a slow-moving wave of carbon dioxide hydrate behind the escaping methane gas.
The computer simulations indicate that the process can be repeated with increasing concentrations of carbon dioxide until the reservoir becomes saturated. The authors said that unlike some methods of carbon storage, this provides a ready incentive for industry to begin storing carbon dioxide.
The Texas researchers' next step is to test their findings in a lab. The Jackson School and the UT Hildebrand Department of Petroleum and Geosystems Engineering are currently testing the method in a facility in the Jackson School.
Methane hydrate is one of a group of chemical compounds known as gas hydrates in which gas molecules become trapped inside cages of water ice molecules rather than chemically bonding with them. Estimates suggest that methane harvested from hydrate deposits found beneath the Gulf of Mexico alone could power the country for hundreds of years, the researchers said.