Research: Oil spills and dispersant chemicals theaten seafloor environments
S. Himmelstein | June 13, 2019
The natural settling of organic and inorganic particles through the oceanic water column is a process defined as marine snow. This particle settling provides food for deep-water animals and plays an important role in the Earth's natural carbon cycle. Research conducted after the April 2010 Deepwater Horizon oil spill in the Gulf of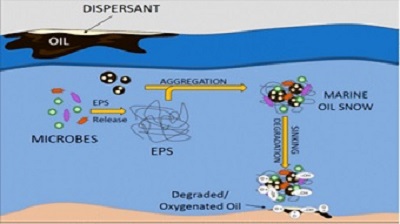 Marine snow contributes to the dispersion of released petroleum and dispersants to deep-sea ecosystems. Source: A. Wozniak et al/ACSMexico also shows that marine snow contributes to the distribution of released petroleum and chemical dispersants to deep-sea ecosystems.
Mesocosm experiments were conducted by researchers from University of Delaware, Old Dominion University and Texas A&M University with 100-liter tanks containing Gulf Coast seawater and plankton, along with samples of the type of oil spilled and the remedial dispersant released. Analysis of settled solids and oil after four days revealed extensive oil incorporation by marine snow materials and evidence of microbial degradation of oil compounds.
The marine oil snow creates a microhabitat for microorganisms which thrive on hydrocarbons, and its oxygenated petroleum constituents could pose a toxic threat to biota at or near the seafloor. Extended residence times of oil on the seabed could result in prolonged exposure by benthic organisms, coral reefs and economically important fish.