Airless tire prototype could be on commercial passenger cars by 2024
Peter Brown | June 06, 2019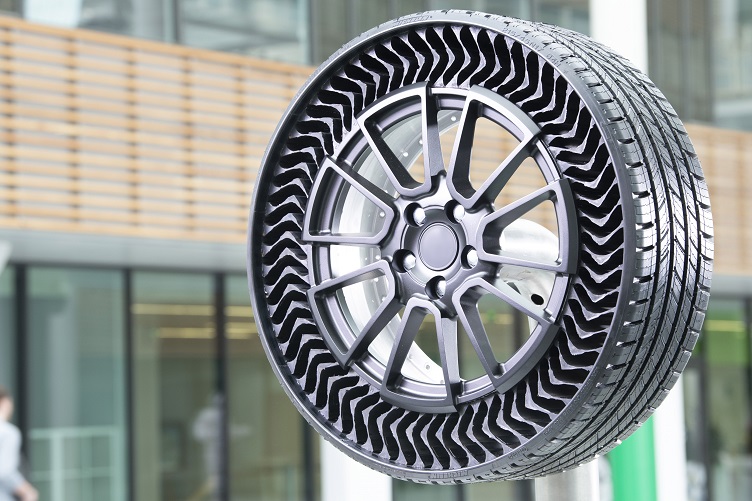 The airless tire prototype that could potentially be used for multiple types of vehicles. Source: Michelin
Automotive tire giant Michelin is developing a new airless tire prototype in a joint research agreement with General Motors in order to boost the safety of vehicles on the road.
The Uptis prototype would be tested and validated prior to commercial delivery of the tires, which would put them on passenger models as early as 2024. Later this year, the companies plan to initiate real-world testing of the airless tires on the Chevrolet Bolt electric vehicle (EV) in Michigan.
The goal of the Uptis prototype is to eliminate the risk of flat tires and blowouts, providing an extra layer of safety for drivers of passenger vehicles. Michelin said the airless tires have near-zero levels of maintenance, improved efficiency from the lack of flat tires and environmental savings through reduced use of raw materials for replacement tire or spare tire production.
The Uptis prototype was unveiled two years ago under its Vision research and development strategy for sustainable mobility that includes innovations such as airless, connected, 3D-printed and 100% renewable or biosourced materials.
Michelin said the airless tires can work on all types of vehicles including autonomous, all-electric, shared service and other applications.
The architecture and composite materials of the airless tire eliminates the need for compressed air to support the vehicle's load, Michelin said. About 200 million tires worldwide are scrapped every year due to punctures, damage from road hazards or improper air pressure. As a result, the airless tire could help the environment by eliminating the need to replace traditional tires.