GEA's aseptic double-seat valve increases shelf life of beverages and dairy products
Engineering360 News Desk | May 21, 2019
GEA has launched the D-tec D/DV double-chamber valve, a double-seat valve designed with a sterile leakage chamber that is hermetically sealed from the atmosphere by two side valves.
As with the entire aseptic D-tec range, the
sealing properties of the new valve stem
diaphragm raise hygiene standards to an UltraClean level, thus increasing the shelf life of soft drinks, fruit juices, as well as milk-based and lactic acid-fermented products. If manufacturers adapt their process chain accordingly, the D-tec can help them achieve a desired shelf life with fewer preservatives.
With the D-tec double chamber valve, GEA now offers aseptic valves for both hygiene classes "Aseptic" and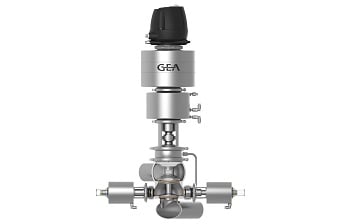 Source: GEA"Ultraclean," which are tailored to the special conditions of the respective applications. D-tec is suitable for iced tea, fruit juice, fruit yogurt and extended shelf life (ESL) milk and other products that require an increased shelf life depending on the pH value, cold chain and storage conditions.
When it comes to UltraClean applications, GEA systematically opts for the hermetically sealed D-tec stem diaphragm because it provides improved contamination protection against the atmosphere and ensures microbial stability of products throughout their manufacture. The membranes are made of thermoplastics that are more flexible than stainless steel. For example, this makes them well-suited to compensate for pressure surges and are, to a certain extent, more forgiving to process errors. In the event of a diaphragm rupture, the leakage detection system ensures a high degree of operational safety and the maintenance-friendly design minimizes system downtimes.
Like the entire D-tec range, the D/DV double-chamber valve is based on the tried and tested Varivent assembly unit, which is characterized by its adaptability. This enables the valve to be configured according to the required process conditions. The double-seat valve is characterized by the two membranes, which hermetically seal the product interior from the atmosphere. It is available in valve sizes ranging from DN 40 up to DN 80 and OD 1.5 in up to OD 3 in; valve sizes DN 100 and OD 4 in will be introduced in the near term. The valve seat can be executed as both soft and hard sealing — the latter with the popular TEFASEP gold seal, which GEA recently introduced. In addition, D-tec double-chamber valves can be equipped with one, two or three T.VIS control tops of various designs.