Digital license plates now legal in three states
Marie Donlon | May 17, 2019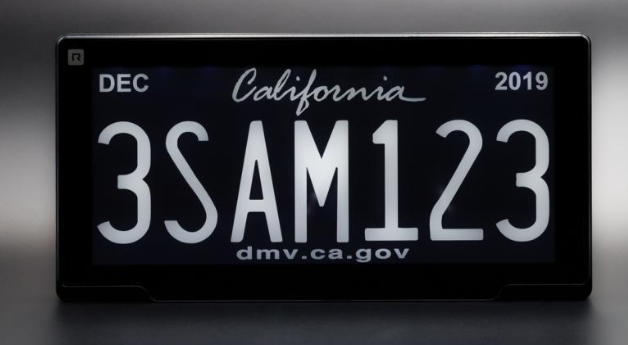 California is one of three states that have legalized the use of digital license plates. Source: ReviverDigital license plates are now legal in three states, according to reports.
Drivers in California, Arizona and Michigan are now able to swap out their traditional metal license plates in favor of digital versions that communicate via mobile cellular networks. The digital license displays are grayscale, using technology similar to that in an e-reading tablet and they rely on "advanced telematics, which enables them to collect tolls, pay for parking and distribute Amber Alerts in the event a child goes missing. The digital plates can also help to recover stolen vehicles, by changing the digital license display to read "stolen," thereby notifying passersby.
Although initially expensive, costing drivers several hundred dollars to upgrade and a monthly $7 service fee, experts suggest that the cost will eventually go down in relation to increased adoption. Following on the heels of Arizona, California and Michigan, other states including Georgia, Illinois, Florida and Washington are considering adoption of the plates as well.
Yet, despite growing adoption, the digital plates are attracting criticism from privacy advocates considering that the plates transmit over the air and also store personal data.
"Your locational history has the potential to reveal a lot more than ... where you happen to be at a particular moment in time," Stephanie Lacambra, a criminal defense attorney for the digital rights group Electronic Frontier Foundation said. "It can reveal your associations, who you speak with, where you go to work, where you live.
"It's still not clear where all this information is going, how long it's stored or who has access to it."
However, according to Neville Boston, cofounder of the self-described first digital license plate maker Reviver, the plates are secure.
"Your data is your data. You have complete control over your information. We've made sure that these plates are extremely secure," explained Boston.