Race is on to add wind capacity before tax credits expire
David Wagman | May 15, 2019
U.S. wind capacity additions are on track to total 12.7 gigawatts (GW) in 2019, as developers work to ensure their projects qualify for federal tax credits, which begin to expire at the end of the year.
The Energy Department's Energy Information Administration (EIA) said that the projected totals will likely exceed annual capacity additions for the previous six years, but fall short of the record 13.3 GW of wind capacity added in 2012.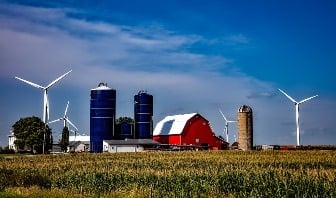 Wind capacity additions are expected to be at near-record levels as federal production tax credits expire at the end of 2019. The federal production tax credit (PTC) provides operators with a tax credit per kilowatthour (kWh) of renewable electricity generation for the first 10 years a facility is in operation. It was initially set to expire at the end of 2012 but was later renewed. EIA said that the high level of annual capacity additions in 2012 was driven by developers scheduling project completion in time to qualify for the PTC. Likewise, the increase in annual capacity additions in 2019 is largely being driven by the legislated phaseout of the PTC extension.
When renewed in 2013, the PTC provided a maximum tax credit for wind generation of 2.3 cents per kWh for the first 10 years of production. Under the PTC phaseout, the amount of the tax credit falls by 20 percentage points per year from 2017 through 2019. Facilities that begin construction after Dec. 31 will not be able to claim the PTC.
Under the current PTC legislation, wind projects are eligible to receive credit based on either the year the project begins operation or the year in which they demonstrate that 5% of total capital cost for the project has been spent and project construction has begun. This 5% method, known as safe harboring, enables wind developers to receive the PTC at a given year's level, provided they complete construction no more than four years after the year that construction began.
The American Wind Energy Association (AWEA), an industry trade group, said in late April that some 39,000 megawatts (MW) of new wind projects were either under construction or in advanced development during the first quarter.
Texas reported having more than 8,500 MW of new wind under construction or in advanced development during the first quarter, AWEA said. That was followed by Wyoming (4,780 MW), New Mexico (2,635 MW), Iowa (2,623 MW) and South Dakota (2,127 MW). A total of 14 states had more than 1,000 MW of wind capacity in the pipeline, and eight states were said to be on track to more than double their installed wind capacity.