Smart pill bottle may help fight prescription drug abuse
Marie Donlon | May 07, 2019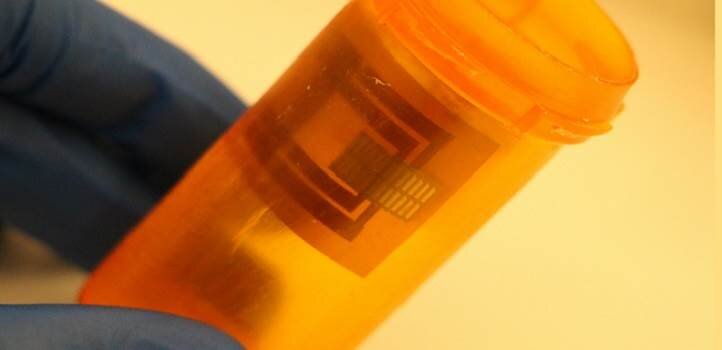 A flexible computer inside a medication bottle can send wireless SMS messages when someone attempts to tamper with it. Source: Muhammad M. HussainScientists from King Abdullah University of Science and Technology (KAUST) in Saudi Arabia have developed sensors for a "smart pill bottle" that send wireless notifications when tampering, unsafe storage conditions or possible overdose are detected.
To accomplish this, the team 3D-printed a prescription pill bottle lid that relies on light-emitting diodes (LEDs) to count the number of pills dispensed. Similarly, the bottle contains sensors that detect temperature and humidity conditions within the bottle, while the outer layer of the bottle is sheathed in conductive tape that behaves like a touch sensor.
If the sensors detect attempts to break into the bottle or that the contents of the bottle become too moist, it will trigger the signal and a flexible control module inside the bottle will examine the signal and send notifications to a linked cell phone via Bluetooth connection.
This is one of many research project efforts at KAUST aimed at making affordable sensors composed of inexpensive materials such as tape, paper and conductive ink accessible to the public.
The smart pill bottle is detailed in the journal Flexible and Printed Electronics.