Video: Transparent wood designed for thermal energy storage in buildings
S. Himmelstein | April 04, 2019
Research on transparent wood composite revealed its potential use as thermal insulation for buildings. A recent development by researchers from Sweden's KTH Royal Institute of Technology, which was presented at the American Chemical Society Spring 2019 National Meeting & Exposition, has extended the application of transparent wood to thermal energy storage in passive buildings. Optical transparency of the composite can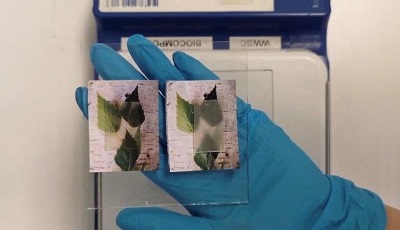 Transparent wood becomes cloudier (right) upon the release of stored heat. Source: American Chemical Society also enable its use as a glazing material.
The researchers first developed a type of transparent wood in 2016 by removing the lignin component from the cell walls of balsa wood, which absorbs light. Incorporating acrylic into the wood imparted transparency, but it could not be used as light-transmitting material.
Efforts to improve the performance of the wood so it could absorb and emit heat as an energy-saving building material involved the addition of polyethylene glycol (PEG). This phase-change material can store and release latent heat energy during a reversible phase change process. Heat is absorbed during the day as the PEG melts and is released at night as the material solidifies.
A delignified wood scaffold was used to encapsulate PEG to prevent leakage during phase transitions. The transparent, heat-storing wood can bear heavy loads and is easily biodegraded at the end of its service life. The researchers estimated that the material could be available for niche applications in interior design in as little as five years.