Sensors from MIT can monitor building and ship wiring, alert when repairs are necessary
Marie Donlon | March 22, 2019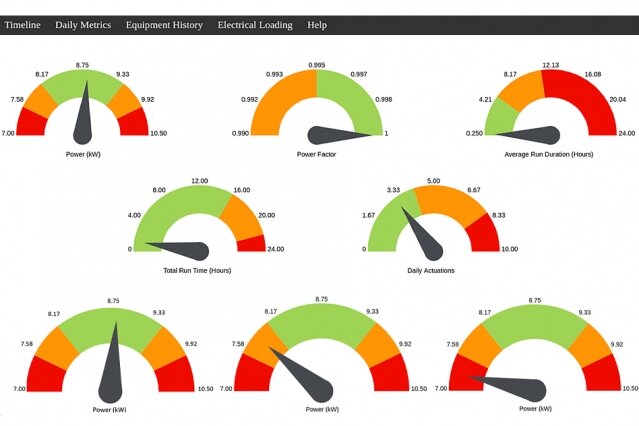 Source: MITResearchers at Massachusetts Institute of Technology (MIT) have developed a new system for gauging the behavior of all the electrical devices aboard a ship or within a building or factory, looking for signs of imminent failure.
The system is composed of a sensor and a graphic display called an NILM (non-intrusive load monitoring) dashboard. The sensor (or sensors) can be fixed to the outside of an electrical wire at a single point, without the need for cutting or splicing the wires, where it can sense the current flow in an adjacent wire. There, the sensor detects the unique "signatures" of each motor, pump or piece of equipment in the circuit by evaluating tiny and distinctive fluctuations in both voltage and current when a device turns on and off. The NILM dashboard requires little training and features a series of gauges for every device under audit. Under normal operation, the dial needles will stay in the "green" zone. However, the needles will swing to the "yellow" and "red" zones to alert personnel to potential problems.
The system's primary function is to detect anomalies before they turn into serious hazards. However, they can also be used for additional functions such as monitoring energy usage, identifying potential improvements to efficiency and gauging when and where devices are being used or left idle.
To demonstrate its capabilities, the system was trialed on the Coast Guard cutter Spencer in Boston. The system was used to track 20 motors and devices on board, using a single dashboard connected to two sensors. The sensors, which had a hard-wired connection in this instance, indicated that an atypical amount of power was being drawn by the jacket water heater, which is a part of the cutter's main diesel engine. Removing the metal covers that conceal the heater, crew members were greeted with excessive smoke and the discovery that the device had experienced extreme corrosion and broken insulation.
Lt. Col. Nicholas Galanti, engineer officer on the cutter, said "the advance warning from NILM enabled Spencer to procure and replace these heaters during our in-port maintenance period, and deploy with a fully mission-capable jacket water system. Furthermore, NILM detected a serious shock hazard and may have prevented a class Charlie [electrical] fire in our engine room."
In addition to being useful to the Coast Guard and the Navy, the system's developers believe it could also be appropriate for use by oil producers and chemical manufacturers, monitoring factories and field sites where flammable and hazardous materials are used.
For more information on the system, go to IEEE Transactions on Industrial Informatics.