Vestas launches extreme climate wind turbine
S. Himmelstein | March 03, 2019
Danish wind energy company Vestas Wind Systems A/S has introduced the V136-4.2 MW extreme climate wind turbine, built directly from its V136-4.2 MW model, with reinforced blades and a strengthened hub. The turbine is designed to withstand extreme wind speeds up to 53 m/s and wind gusts up to 78 m/s as well as weather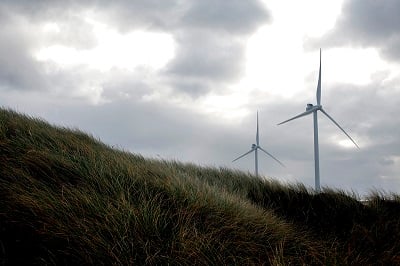 The extreme climate wind turbine is capable of withstanding strong winds. Source: Vestas Wind Systems A/S events such as lightning strikes associated with typhoons.
The design boosts performance by 11% compared to the V136-3.45 MW model and reaches a 103.9 dB(A) maximum sound power level, enabling permitting and realization of wind projects in sound critical areas.
The model is suitable for deployment regions of Asia marked by challenging wind and weather conditions, and is also applicable to other markets such as the Caribbean and the U.K. Inclusion of a full-scale converter that delivers advanced active and reactive power capabilities makes the turbine equally useful for areas with low grid capacity. Production is expected to begin in mid-2021, with the turbines ready to be delivered later that year.
Vestas vice president of product strategy Thomas Korzeniewski said, "The larger rotor delivers improved energy production, with the strength and versatility necessary to handle extreme wind gusts and high turbulence."
The company also recently developed two versions of a 5.6 MW machine based on the EnVentus modular design platform to provide a turbine configuration to handle a range of wind conditions.
Learn more about Vestas wind turbines, products and services at Engineering360.