3D-Printed Jet Engine Revved Up to 33,000rpm
Engineering360 News Desk | June 16, 2015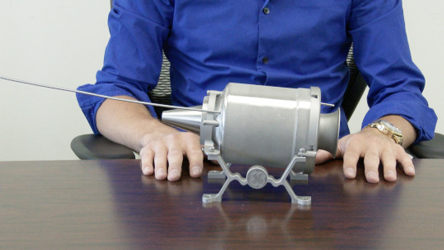 GE engineers made a 3D-printed mini jet engine that roared at 33,000 rotations per minute. Image credit: GEEngineers at General Electric (GE) created a 12-inch-long jet engine using direct metal laser melting (a type of additive manufacturing or 3D printing), and tested the engine by spinning it up to 33,000 rotations per minute. The manufacturing technique builds 3D objects by melting metal powder layer upon layer.
The jet engine is based on a design for a radio-controlled aircraft and was subjected to a similar workout as a full-sized engine.
The engine is mainly a proof-of-concept. In April, the Federal Aviation Administration in the U.S. cleared the first 3D-printed part to fly in a commercial jet equipped with GE engines. The part is the housing for a compressor inlet temperature sensor within the jet engine.