Finding sources of black carbon in the Arctic
S. Himmelstein | February 22, 2019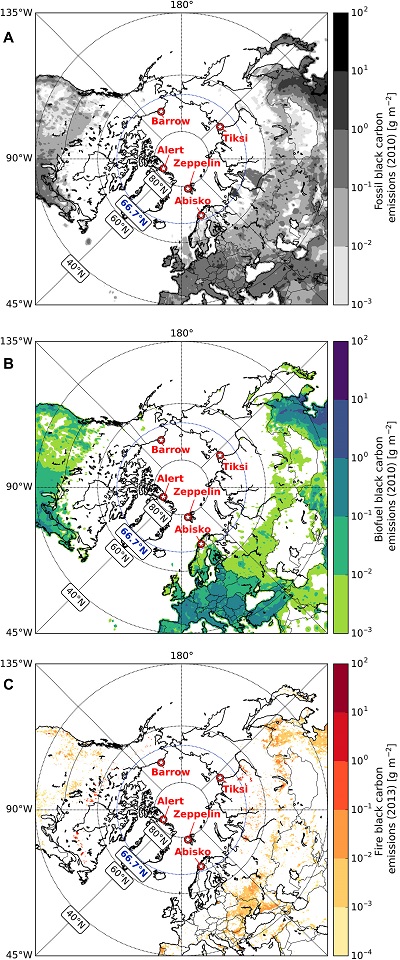 The five Arctic stations are marked in red. (A) Fossil fuel black carbon emissions (base year 2010). (B) Biofuel emissions (base year 2010). (C) Emissions from open fires (data for observational year 2013). Source: P. Winiger et al.
Black carbon contributes to climate change in Arctic regions, but the sources of this pollutant are largely unknown. An international research team used radiocarbon to determine fossil fuel and biomass burning contributions to black carbon in Russia, Canada, Sweden, Norway and Alaska.
Combustion of coal, gasoline or diesel was determined responsible for most of the wintertime black carbon deposited in the Arctic, and annually contributes about 60%. Biomass burning, which encompasses wildfires and residential wood smoke plays a stronger role in the summer and contributes about 39% annually. The Barrow, Alaska, study site was marked by a higher fossil fuel contribution to black carbon and was more impacted by North American sources of black carbon than the rest of the Arctic.
Modeling results coincided with black carbon monitoring data while model-derived source apportionments were in less agreement with observed pollutant trends. This discrepancy is attributed to several factors, including misallocation of anthropogenic black carbon sources within Asian regions and uncertainties in estimates of black carbon emissions from wildfires. Good agreement is observed between the model and monitoring data when comparing fossil-only black carbon concentrations for sites where there are no missing meteorological data. These findings could be used to inform targeted emission reduction policies for the Arctic region.
Researchers from Stockholm University, Baylor University, Environment and Climate Change Canada, Norwegian Institute for Air Research, International Institute for Applied Systems Analysis (Austria), Russian Academy of Sciences, University of Alaska Fairbanks and Tomsk National Research Polytechnic University (Russia) participated in this study, which is published in Science Advances.