Keuka Studios shares first impressions of ANSYS Discovery Live used with ANSYS Discovery SpaceClaim
February 20, 2019
Sponsored Content
After working as a design engineer at Xerox and receiving word the company was closing down his division, Dan White, president and founder of Keuka Studios, decided it was time to pursue his dream of his own business.
White yearned for something more creative than high-volume manufacturing. His artistic vision and experience working with injection molding, plastics and sheet metal led him down the path of architectural metal work. White followed his dream and formed Keuka Studios in 2002 out of Rush, New York. Today, the company specializes in modern architectural stairs and railing systems, primarily cable rail, with an emphasis on design and workmanship.
Aside from an aesthetically pleasing set of stairs, there was one aspect to the puzzle White needed to perfect: safety. It is his top priority. Knowing this, he reached out to ANSYS and was introduced to 3D modeling software, which helps him with design, fit and function for Keuka Studios' stair designs. Keuka's designers appreciate the direct modeling nature of ANSYS Discovery SpaceClaim, where it is simple to construct 3D models and make one-off or drastic changes with ease.
Keuka Studios doesn't get the opportunity to build physical prototypes, due to the size and cost of stairs. White said they must get it right the first time. Plus, the company does a lot of custom work, so the prototype is actually the final build.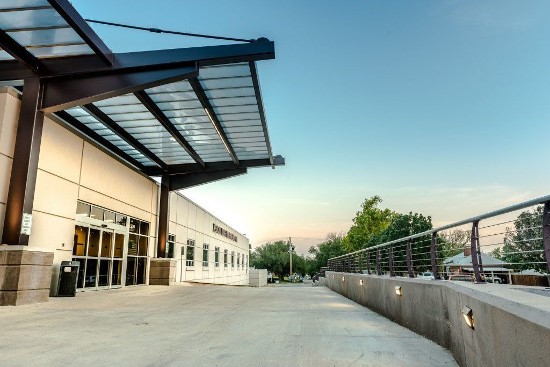 Keuka Style cable railing in Medicine Lodge, Kansas.
In addition to custom work, Keuka Studios has its signature brand, the Keuka Style cable railing, as well as many other styles, like the Ithaca Style railing.
"We make a drawing and design, and go back and forth with the customer many times to get it right and then build it, it's like a prototype, but it's got to work right out of the chute," said White. The company does not do multiple prototypes like in the mechanical design world.
"It's got to be one and done. We can't afford to make mistakes."
Challenges
In the design of architectural components like stairs and railings, the designer or architect has an aesthetic vision for the project. However, structural engineers are involved in these types of projects and generally have different goals that are often at odds with an aesthetic vision. White has always believed that strength and beauty should go hand-in-hand, so he decided to try ANSYS's newest product, called Discovery Live, which brings instant performance and simulation data integrated with Discovery SpaceClaim geometry modeling. This allowed him to use the right amount and type of material by simulating actual loading conditions and material strength, all while meeting the customer's demands.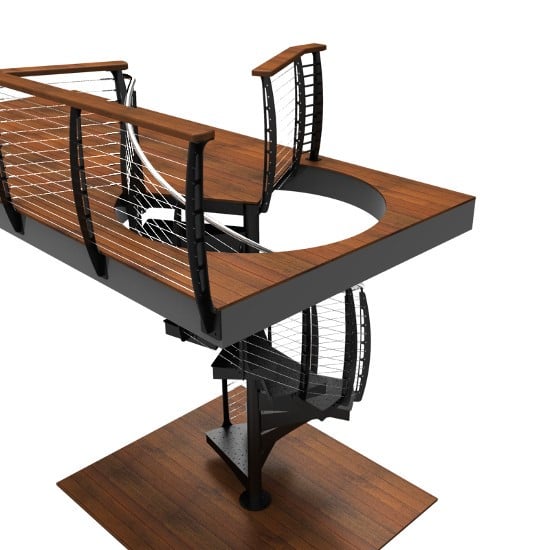 Custom Keuka spiral stair.Complex geometry is another challenge, and it is difficult to analyze. Prior to ANSYS, "we'd do what everyone else does, overdesign it. This would make everything heavier and complicates rigging and assembly at the sites. We didn't have a way to optimize the design."
Once Keuka Studios builds the staircase it is shipped directly to the jobsite, and White said the company does not perform the installation, so it needs to fit perfectly.
"It's got to be beautiful, and it's got to work," he added. "And number one it's got to be safe."
White said in one instance a customer wanted things to look visually lighter than what he had suggested for the build, and sure enough he learned the hard way. At the time, White did not have a way to analyze the design, so the company built the spiral staircase as requested and it was wiggly because it had too little material. With 200 hours already invested, White decided he was not going to start over.
Solution
At that point, he imported the geometry into ANSYS Discovery Live to quickly perform a structural analysis and see what his options were. With the software, he discovered it was a relatively simple change to make the design work. The architect got the design he wanted and Keuka was happy with the rigidity of the design.
Keuka Studios has integrated 3D laser scanning and 3D modeling with ANSYS SpaceClaim to ensure a perfect fit.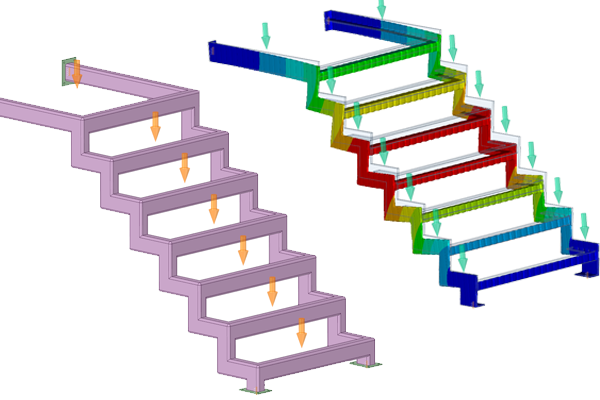 Stair stingers before and after using Ansys Discovery Live. Simulation confirmed thinner materials, as compared to tubes, would be strong enough to support loads
"No one designs their house around our railing, we have to design our stairs and railings around whatever they have built" said White. "How do we know if the design is going to fit? That's the challenge…We only get one shot. [sic]"
He said his laser scanner has basically been a lifesaver, along with the ability to easily make changes to a 3D design in ANSYS Discovery SpaceClaim. One project where the software helped White meet the demands of the customer was for a high-end home in Greenwich, Connecticut. The architect requested thin stair stringer members, thinner than White was comfortable with.
After White modeled it in 3D it looked like it was going to work, but he wanted a second opinion. Since he had just started using the software, he consulted a professional engineer. Initially, the engineer did not think the calculations were going to work either, based on White's design. White initiated a screen share with the engineer and opened ANSYS Discovery Live.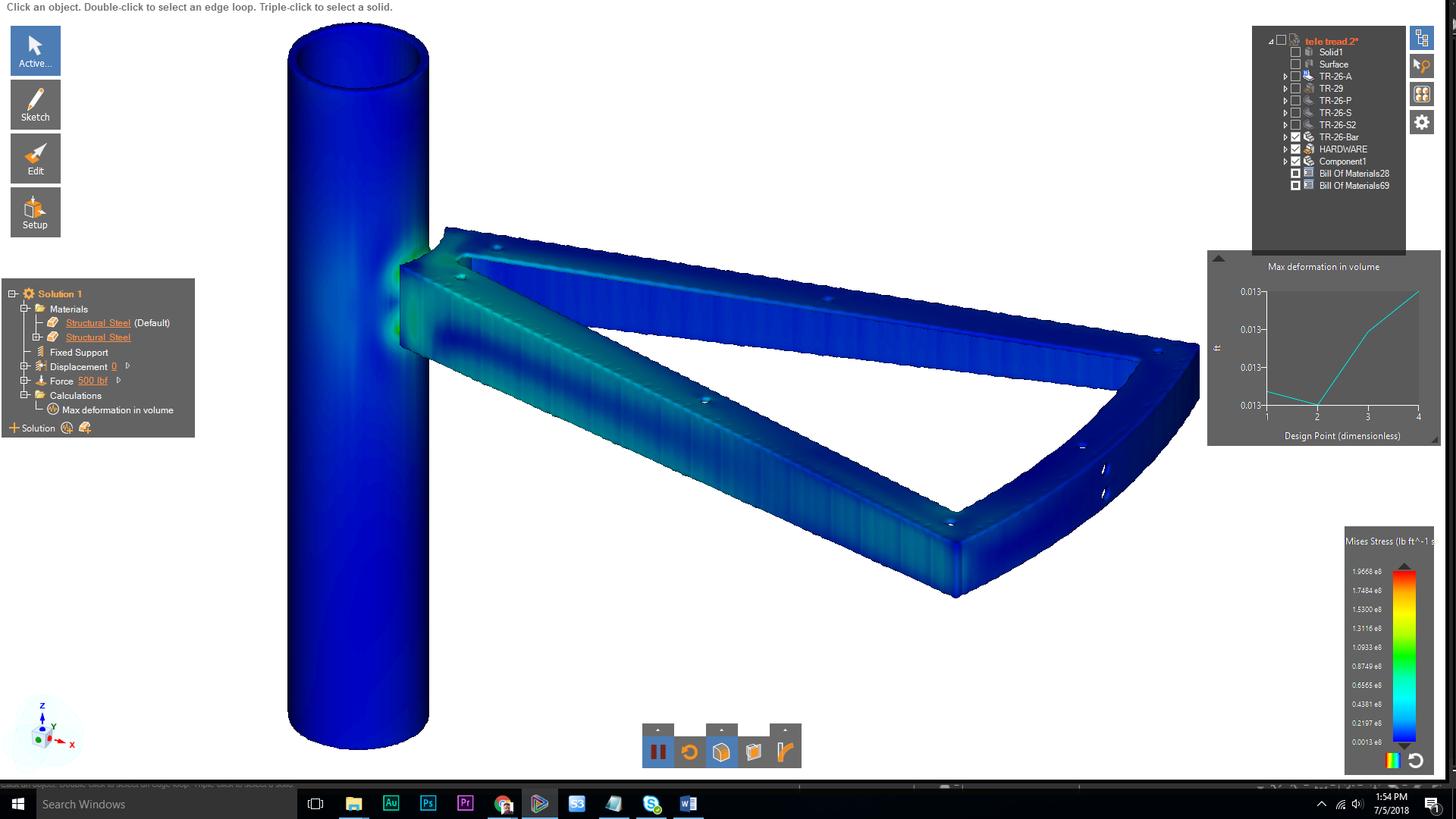 Stress distributions in Discovery Live.White assured the engineer that the model and the software were accurate.
"This is the software used to design rockets so I'm pretty confident however I am new to the software so I would like to verify my numbers," said White.
After the engineer ran the calculations, he agreed with White. For the Greenwich project, Keuka Studios was able to meet the architect's request and reduce the stair thickness stringer from 7 in to 2 in. This made both the architect and homeowner happy, and resulted in significant material cost savings.
Since using ANSYS Discovery Live, White has been able to keep his customers happy and make more optimized designs.
"There is a big risk for a fabricator to go in to a design and start to make material thinner and shapes smaller to try and get it lighter."
Benefits
So along with simple hand calculations and gut instincts after 30 years of industry experience, White now has the software to help him validate the direction he is going.
"My intuition is pretty good, but still sometimes things are counter-intuitive when you're dealing with complex shapes, and a lot of times you look at things and they are right where you think they should be, but once in a while you get surprised," said White.
ANSYS Discovery Live has helped take the guesswork out of Keuka Studios' designs and eliminate overdesigning, according to White.
When designing the Keuka Style railing many years ago, he hired an engineer to help verify the design. The engineer suggested he sturdy the design and increase material thickness. He recently ran those numbers in ANSYS software, which showed that he could actually reduce the thickness of the Keuka model by quite a bit.
"You mean to tell me I can get the same functionality out of it," White said. "It goes to show how much money I have wasted over the years."
Overall, White has discovered that with ANSYS software, simulations behave like real-world parts.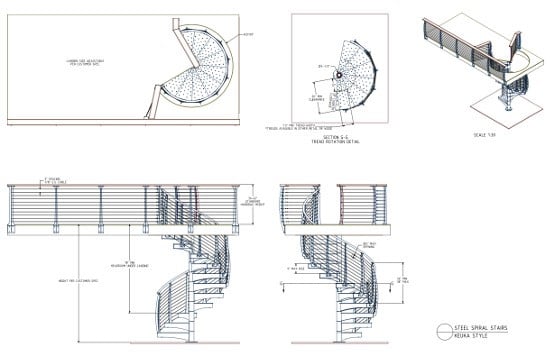 Keuka Style spiral staircase drawing."It has given us the confidence to try more complex designs and reduce costs by optimizing designs more."
First impressions
Overall, White said he has a fairly good understanding of using ANSYS Discovery Live, and that set up was child's play.
"The initial learning to set up a problem and run it was achievable in a few minutes," White added. "It helps that I am already a SpaceClaim user."
When asked if he would recommend ANSYS Discovery SpaceClaim to others he said, yes, without hesitation, and he has already done so. One thing is for sure, White said, since using ANSYS Discovery Live, he has been sleeping more at night.
"Now I can build a product and rest assured that it will be safe," said White. "[With ANSYS Discovery Live] you've got direction on what's going to work and you build your product based on that."
"We only get one shot when we build it and, it's not just a prototype, it's the final product."