Mira Robotics plans to rent remote-operated laundry robots
Marie Donlon | February 12, 2019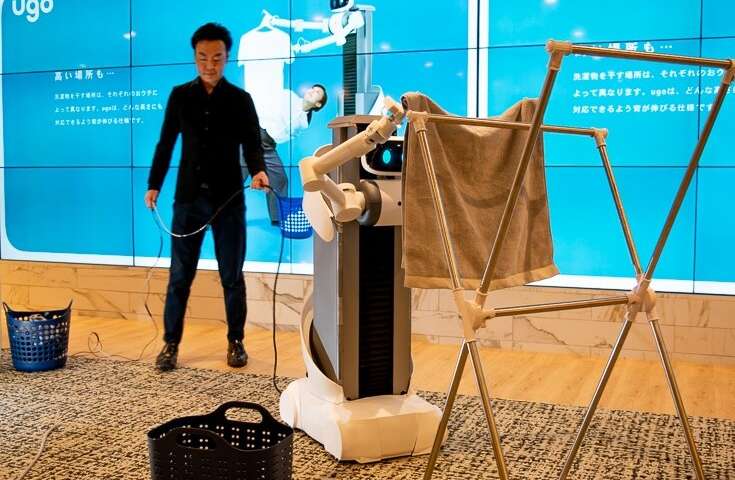 Source: Mira RoboticsFollowing the recent debut of its laundry-folding robot, Japanese start-up Mira Robotics has announced plans for a robot rental business that rents robots for help with the laundry.
Ugo is outfitted with three cameras, a speaker and a microphone so that it can be remotely controlled. Customers schedule remote, human operators to wash and dry laundry for a handful of hours each week. Operators link to Ugo during the scheduled time and disconnect once laundry is done. The business model permits operators to work entirely from home.
With its two arms, Ugo slowly removes clothing from the washing machine, hangs it to dry, folds it piece-by-piece and places it in a laundry basket, according to reports. Though limited to a handful of movements, the 158 lb robot can elongate itself to grasp hard-of-reach objects and is equipped with Wi-Fi and LTE connectivity.
Mira Robotics wants to make Ugo available for consumers to rent as a live-in laundry robot for a monthly fee, ranging from $180 to $225.
Although the company envisions that the robot will be capable of more than laundry in the future, they also have immediate plans to address the slow speed at which Ugo operates.
"During the folding process…the time it takes for the robot to do the job will be shortened by revamping the arms and the way they are manipulated," explained Mira Robotics' CEO Ken Matsui.
Following beta testing, which is scheduled to begin in August, Mira Robotics expects to launch its robot-rental business in May 2020.