NASA bumps Boeing and SpaceX's unmanned and manned flight tests
Peter Brown | February 07, 2019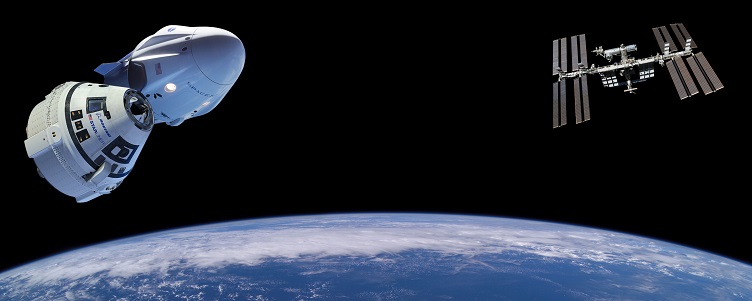 An artist rendering of the SpaceX and Boeing spacecraft that will be tested for manned flight to ISS. Source: NASA
NASA, Boeing and SpaceX have agreed to move the target launch dates for the upcoming inaugural test flights of next-generation spacecraft that will carry astronauts to the International Space Station (ISS) in order to allow for the completion of hardware testing, data verification, reviews and training.
The uncrewed and crewed test flights represent the first time a commercially built and operated American spacecraft designed for humans will dock with the ISS. The test flights are viewed as dress rehearsals for future missions with astronauts aboard the spacecraft.
The new date for the launch of SpaceX's Crew Dragon on its unmanned Demo-1 test flight is March 2, and the Boeing CST-100 Starliner unmanned orbital flight test is targeted for launch no earlier than April.
Last month, SpaceX completed a static fire test of its Falcon 9 with Crew Dragon atop the rocket in preparation for Demo-1 while Boeing's Starliner is still testing in anticipation for its orbital flight test.
"There still are many critical steps to complete before launch and while we eagerly are anticipating these launches, we will step through our test flight preparations and readiness reviews," said Kathy Lueders, commercial crew program manager at NASA.
NASA's Commercial Crew program is set to return human spaceflight launches to U.S. soil after the retirement of the Space Shuttle. The spacecraft are designed to access low-Earth orbit and ISS. To meet NASA requirements, the spacecraft must demonstrate that their systems are ready to begin regular flights to the space station.
After unmanned flight tests, Boeing and SpaceX will complete a flight test with a crew prior to being certified for crew rotation missions.
NASA said the other new test flight dates are:
Boeing pad abort test: No earlier than May 2019
SpaceX in-flight abort test: June 2019
Crewed flight SpaceX Demo-2: July 2019
Crewed Flight test for Boeing: No earlier than August 2019