The economics of battery-assisted hydrogen production from solar energy
S. Himmelstein | February 05, 2019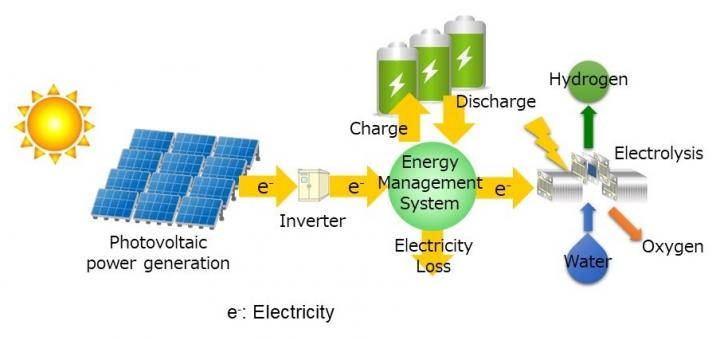 Schematic of a system capable of adjusting the amount of battery charge/discharge and the amount of electrolysis hydrogen production in relation to the amount of solar power generated. Source: NIMS
An increased capacity to store electricity will be essential to boosting the penetration of renewable energy technologies in Japan. Research is focusing on the development of systems to store excess power in rechargeable batteries, and power-to-gas schemes that produce and store hydrogen. These approaches are cost-intensive and undermine the economic feasibility of renewable energy systems.
The economic feasibility of another renewable electricity and storage option was analyzed by a team from the National Institute for Materials Science (NIMS), the University of Tokyo and Hiroshima University. Cost targets were evaluated for the production of hydrogen from photovoltaic (PV) power generation combined with a battery-assisted proton-exchange membrane electrolyzer.
A hydrogen cost as low as ¥17 to ¥27/normal cubic meters (Nm3) ($0.16 to $0.25) can be realized using a combination of technologies and by reaching individual cost targets for batteries, PV and electrolyzers. This converts to approximately $1.92 to $3.00/kg of hydrogen, with 1 kg hydrogen equal to about 12 Nm3 of hydrogen. For comparison, the U.S. Department of Energy's 2020 target for the levelized cost of hydrogen production is $2.30/kg.
The required capacity of electrolyzer decreases and the operating ratio of electrolyzer increases with the leveling of PV output through battery integration. The battery-assist is expected to reduce hydrogen production costs when the benefit associated with the smaller capacity and higher operation ratio of the electrolyzer exceeds the necessary investment for battery installation.