Nanotech enables welding of unweldable aluminum alloy
S. Himmelstein | January 26, 2019
The aluminum alloy AA 7075 is commonly used to form airplane fuselages and wings, where the material is generally joined by bolts or rivets rather than welded. The lightweight, high-strength alloy is also used for products that don't require joining, such as smartphone frames.
It offers great potential to increase automobile fuel efficiency, but the alloy's resistance to the type of welding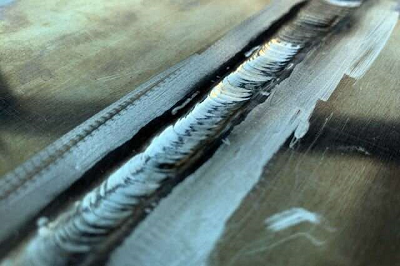 Two pieces of aluminum alloy 7075 welded together using a nanoparticle-enhanced filler wire. Source: Oszie Tarula/UCLAused in automobile manufacturing has prevented it from being widely adopted. As AA 7075 is heated during welding, its molecular structure creates an uneven flow of its constituent elements — aluminum, zinc, magnesium and copper — which results in cracks along the weld.
A nanotechnology-based solution has been devised by the University of California Los Angeles (UCLA) researchers. Titanium carbide nanoparticles are infused into AA 7075 welding wires, which are used as the filler material between the pieces being joined.
The process was used to weld joints with a tensile strength up to 392 megapascals. Post-welding heat treatments could further increase the strength of AA 7075 joints up to 551 megapascals, which is comparable to steel. The presence of the nanoparticles during solidification of the melting zone was observed to modify the alloy's alpha-grain and secondary phase morphologies, yielding a crack-free fusion joint.
The research, which is published in Nature Communications, suggests that nanoparticle-infused filler wires could also make it easier to join other hard-to-weld metals and metal alloys.