Queqaio satellite bridges Earth and the dark side of the moon
Nancy Ordman | January 03, 2019
Animation of communication between Change'e-4 and Queqiao. Source: China National Space Agency
Sixty years ago, the Soviet Union's Luna 3 space probe sent pictures of the moon's dark side back to Earth. Fifty years ago Apollo 8's astronauts became the first humans to see the far side with their own eyes while orbiting about 70 miles above the lunar surface. Today – January 3, 2019 – China shared pictures taken by the first spacecraft to land on this hidden lunar landscape.
Both Luna 3 and Apollo 8 had to travel to the side of the moon facing Earth before they could transmit their images. How did the Chinese manage to get pictures from their Change'e-4 moon probe? By stationing a relay satellite that sits in the line of sight from both the Earth and Change'e-4's landing spot in the Von Kármán, a large crater near the moon's south pole.
In May 2018 China's space agency launched "Queqiao," or "Magpie Bridge," the communications satellite that makes data transmission possible. The satellite entered a Lissajous, or halo, orbit around the Earth-Moon Lagrange point 2, abbreviated as EML2 or simply L2. This is one of five libration points where a small object, like Queqiao, can orbit and maintain the same position relative to two larger objects. A technical explanation of Queqiao's orbit is available here.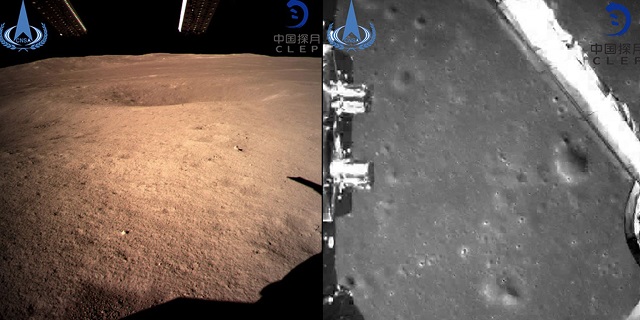 An image taken on the far side of the moon by China's Chang'e 4 lunar explorer. Source: China National Space AdministrationQueqiao uses a 4.2-meter parabolic antenna to communicate between Earth and Change'e-4. It is also carrying out a joint experiment with the Netherlands to try to detect radio signals emitted before the formation of the first stars.
The same rocket that carried the relay satellite towards the moon also launched a pair of Longjiang microsatellites intended to enter lunar orbit. One of these failed to enter orbit, but the second one was successful and is carrying out its mission to support amateur radio experiments. It has also beamed back a new Earthrise image, fifty years after U.S. astronaut Bill Anders snapped the first iconic photo.
Change'e-4's mission includes six scientific payloads designed by Chinese scientists and three experiments designed in collaboration with scientists from outside China. Some will focus on the composition and structure of lunar soil; another analyzes surface radiation levels. A coalition of 28 Chinese universities sent a biosphere containing Arabidopsis and potato seeds and silkworm cocoons to test photosynthesis and respiration in a low-gravity environment.
Queqiao, itself a bridge between the moon and the Earth, is named for a legendary bridge over the Milky Way. Magpies took pity on two lovers that were separated by the Milky Way. One day a year the birds formed a bridge so the lovers could reunite.