The US made big strides towards clean, independent energy in 2018
Shawn Martin | January 03, 2019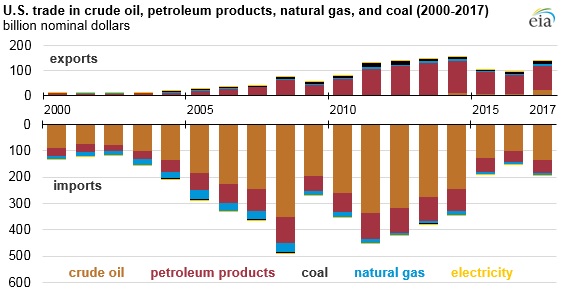 Source: U.S. Energy Information AdministrationThe U.S. Energy Information Administration (EIA) reported a series of milestones in 2018. Data suggests that the U.S. has made significant strides towards clean energy and energy independence.
On Feb. 5, 2018, the EIA reported China surpassed the U.S. as the largest importer of crude oil in 2017. On average China imported 8.4 million barrels per day (b/d) in 2017. This toppled U.S. net imports of 7.9 million b/d. Increased refinery capacity and dwindling domestic production largely contributed to China's net import of crude oil, but domestic production of crude oil in the U.S. continues to rise in large part due to the drilling of vertical wells and hydraulic fracturing.
On March 27, the EIA reported that liquefied natural gas (LNG) exports had quadrupled in 2017. LNG exports rose to 1.94 billion cubic feet per day (Bcf/d). There have been a series of LNG projects completed since 2016 and with even more slated for 2019, such as the Freeport LNG and Corpus Christi LNG in Texas, U.S export capacity is expected to reach 9.6 Bcf/d by the end of 2019.
On July 30, the EIA reported that 2016 domestic energy expenditures per unit gross domestic product (GDP) were at its lowest levels since the 1970s. U.S. GDP has increased every year since 2010. Total domestic energy expenditures also decreased each year since 2011, leading to the record-low energy expenditure share in 2016. The EIA forecasted a slight increase in energy expenditure share for both 2017 and 2018 due to increasing costs of energy expenditures, although energy commodity prices fell significantly in the fourth quarter of 2018 and the energy expenditure share in 2018 will remain low in respect to historical prices.
On Oct. 16, the EIA recognized that crude oil imports still dominate the U.S. energy trade balance. Although energy independence is in sight, crude oil imports accounted for nearly two-thirds of the value of all energy imports in 2017. Crude oil imports from Canada dominated the energy portfolio with net imports from Canada valued at $73 billion.
On Oct. 29, the EIA reported that domestic electric power sector carbon dioxide (CO2) emissions had declined 28% since 2005, due to slow demand coupled with a new mix of fuel sources. The retirement of coal-fired power plants was displaced by natural gas-fired power generation and the net effect was a decreased carbon footprint for the U.S. electric power sector, which released just 1,744 million metric tons (MMmt) of atmospheric CO2 in 2017, the lowest level since 1987.
On Dec. 5, the EIA recognized a reduced domestic coal consumption. They forecasted 2018 coal consumption of just 691 million short tons (MMst). This marks a 4% decline year-over-year and would also be the lowest level since 1979. The electrical power sector dominates domestic coal consumption and accounted for 93% of the nation's coal consumption between 2008 and 2018.
The EIA began 2019 by recognizing that the U.S. became the world's largest crude oil producer in 2018. Forecasted U.S. crude oil production came in at 10.9 million b/d for 2018. Crude oil exports increased significantly and the U.S. is forecasting an average of 1.9 million b/d in 2018. The EIA also recognized the U.S. as a net exporter of crude oil for a one-week period in late November, a feat never documented through-out all of the EIA's data history, which began in 1994.
In 2018 the U.S. increased its LNG export capacity, crude oil export capacity and crude oil production capacity, setting records on all fronts and making strides towards energy independence and reduced carbon footprint. Energy expenditures as a function of GDP remained historically low while crude oil consumption and CO2 emissions declined.