Wearable alerts emergency contacts of opiate overdose
Marie Donlon | January 02, 2019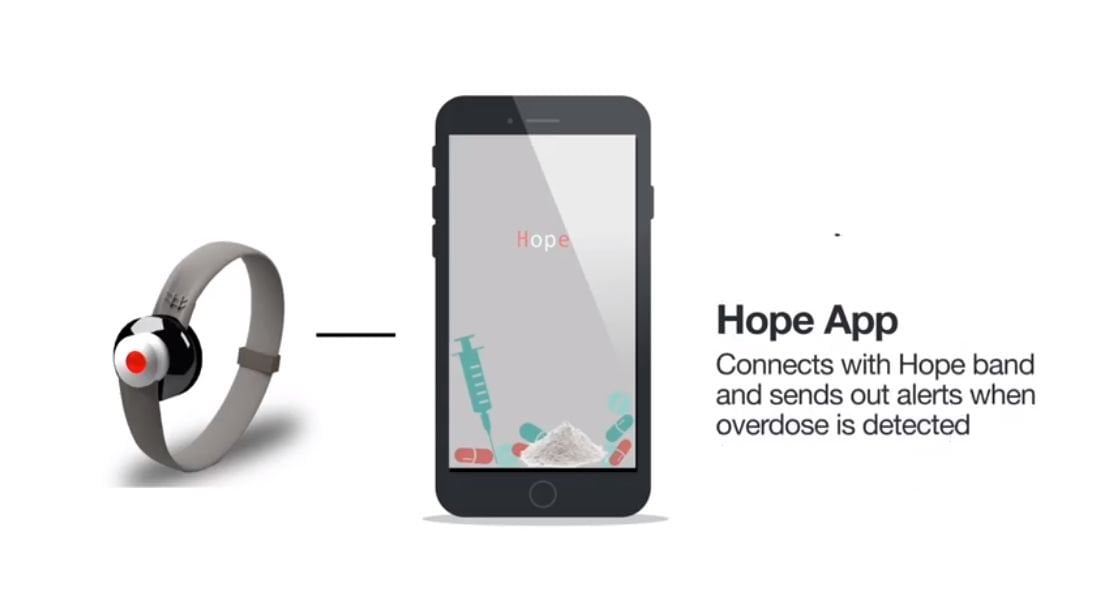 Source: Carnegie MellonA smart wristband, called the Hope Band, improves opiate overdose response times and increases survival rates by alerting emergency contacts that the wearer has suffered an overdose.
Carnegie Mellon software engineering students created the device to expedite overdose intervention amid the ongoing opioid epidemic in the United States.
The Hope Band alert triggers so that the wearer can be treated with naloxone, a medication that reverses opioid overdose
A pulse oximetry device, the Hope Band pairs with the wearer's smartphone and monitors the oxygen levels in the wearer's blood by shining LED lights through the skin, detecting differences in the absorption of light. In the event that oxygen levels decrease enough to suggest a possible overdose, the device will monitor the occurrence for 10 seconds before triggering the alarm.
According to a description on the Carnegie Mellon website: "When paired to a mobile phone via Bluetooth, the sensor takes numerous readings on an ongoing basis to establish a baseline reading. If the user's blood oxygen level drops for more 30 seconds, the device switches an LED on the display from green to red. The device also cues the paired mobile phone — via an app the team also developed — to send out a message with the user's GPS coordinates to his or her emergency contacts."
The development team is working to improve the device with machine learning algorithms that will enhance the accuracy of the device's predictions. The team also envisions the addition of more sensors to expand the device's dataset.
For now, the team intends to offer the device at no cost as part of needle exchange programs, with the long-term goal of selling the device for $16 to $20 along with additional features to help wearers fight addiction.
Wearables are continually gaining a foothold in the healthcare sector, with wearable devices to track everything from UV exposure and pollution to stress, as indicated by cortisol levels in sweat.