This Power Plant Would Stand Above Rising Sea Levels
David Wagman | December 07, 2018
Florida officials approved a utility plan to build an $888 million, 1,163 megawatt (MW) gas-fired power plant within several miles of the Atlantic Ocean in Broward County.
The plant, known as Dania Beach Energy Center Unit 7, could open by 2022. Utility Florida Power & Light plans to build the plant to stand as much as 11 feet above sea level, an acknowledgment that ocean levels could rise by up to 34 inches by mid-century.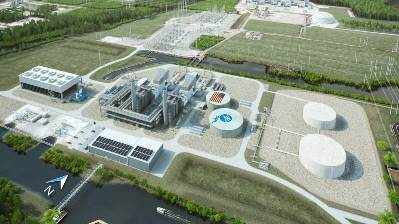 The proposed power plant would be built 11 feet above sea level. Source: FP&LAs proposed, DBEC Unit 7 would include two combustion turbines, two heat recovery steam generators and one steam turbine at an existing power generation site.
The project won approval from a siting board made up of Gov. Rick Scott and members of his cabinet.
DBEC Unit 7 would occupy around 400 acres of FPL-owned land near the Ft. Lauderdale/Hollywood airport. The site has hosted power plants since 1927, and currently houses the Lauderdale 4 and 5 Units.
Some infrastructure used to support Lauderdale 4 and 5 will be reused. Existing fuel and storage tanks would not be elevated, however, according to news reports.
DBEC Unit 7 is projected to have an average heat rate of 6,119 Btu/kWh and a capacity factor of around 90%. Heat rate is a measure of a generating unit's efficiency in converting its fuel into electric power. Lauderdale Units 4 and 5 have an average heat rate of around 7,800 Btu/kWh, suggesting that the proposed new unit is 22% more fuel efficient.
The ramp rate for Lauderdale Units 4 and 5 is 6 MW/minute, the slowest on FPL's system. The proposed DBEC Unit 7 has a projected ramp rate of 60 MW/minute, which would make it the fastest ramp rate of FPL's current units. A generating unit's ramp rate is the amount of energy that can be increased or decreased over a given time, and is a major factor in determining a facility's operational flexibility.
News reports said that the Sierra Club has opposed the project, in part questioning the utility's decision to elevate only parts of the plant. It also asked that Gov. Scott be removed from voting on the issue because of his investments in NextEra Energy Partners, a company affiliated with the utility's parent company, NextEra Energy. Reports say that the governor has invested as much as $500,000 in NextEra Energy Partners. The Sierra Club's request for Scott to be removed was rejected.