Watch: Robot Hand Has Sense of Touch Thanks to New Electronic Glove
Siobhan Treacy | November 26, 2018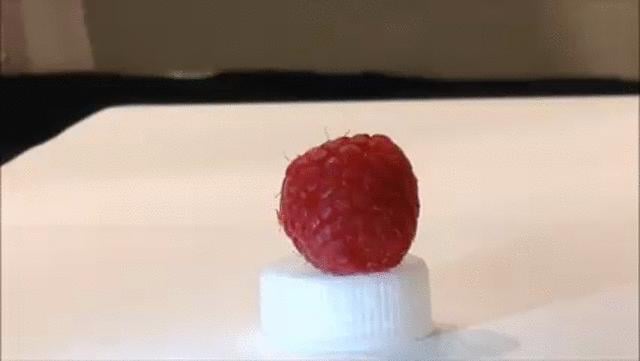 Stanford researchers developed a skin-like sensor on the fingertip of a robotic hand, and programmed it to touch the fruit without damage. Source: Courtesy of the Bao LabStanford engineers have outfitted the fingertips of a robotic glove with sensors, giving the glove a sense of touch that mimics human dexterity, according to a new study.
The sensors can measure intensity and the direction of pressure the fingers are feeling, creating manual dexterity.
"This technology puts us on a path to one day giving robots the sort of sensing capabilities found in human skin," Zhenan Bao, a chemical engineer and leader of the team, said.
The glove imitates the layers of human skin that allow people to feel objects. The outer layers of skin on human hands detect outside stimuli and the fingers and palms have touch sensors. All the sensors work with the spinosum layer of skin, which is a bumpy, microscopic terrain. When a person touches an object, the outer skin moves toward the spinosum, enabling touch. A light touch will only reach the tops of the bumps of the spinosum while intense pressure pushes the outer skin into the valleys of the spinosum. The spinosum also detects the direction of pressure, which allows people to hold breakable items like an egg without crushing it.
The fingertip sensors are made of three flexible layers. The first and third layers are electrically powered with a grid of electrical lines. The third layer is designed to mimic the bumps of the spinosum, mapping intensity and the direction of pressure. The middle layer is a rubber insulator that keeps the first and third layers apart. By keeping the top and the bottom layer close but not touching, the sensors can generate and store energy.
The team tested the glove by placing it on a robotic hand and programming the hand to operate various experiments. In one experiment, the hand was programmed to lift and move a ping-pong ball without crushing it. In another experiment, the hand successfully touched a berry without damaging it.
The team said that with more programming, the hand could do repetitive tasks with fragile objects, like lifting eggs and placing them in cartons. They also believe that the gloved hand could be used in robot-assisted surgery.
"We can program a robotic hand to touch a raspberry without crushing it, but we're a long way from being able to touch and detect that it is raspberry and enable the robot to pick it up," Bao said.
A paper about the glove was published in Science Robotics.