Whale Washes Up in Indonesia with 115 Plastic Cups, Flip-Flops in Its Stomach
Marie Donlon | November 21, 2018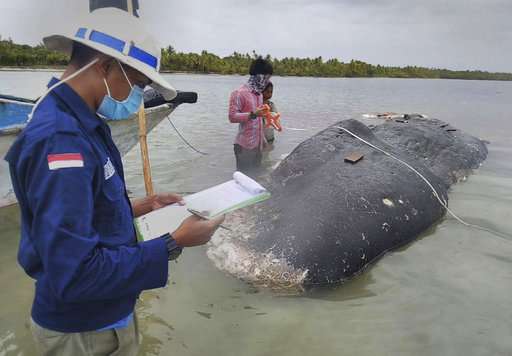 Source: The Associatd PressIn yet another example of the impact plastic waste is having on marine life come reports that a whale has washed ashore in eastern Indonesia with a stomach full of plastic.
The decomposing carcass of the 31 foot sperm whale was discovered by rescuers from Wakatobi National Park located in Southeast Sulawesi province.
Securing the carcass amid reports that local villagers were attempting to butcher the remains, rescuers from the wildlife conservation group WWF discovered 13 pounds of plastic waste in the whale's stomach. In addition to the 1,000 assorted pieces found in its stomach, researchers also discovered 115 plastic cups, 25 plastic bags, four plastic bottles, one nylon sack and two flip flops.
"Although we have not been able to deduce the cause of death, the facts that we see are truly awful," said Dwi Suprapti, a marine species conservation coordinator at WWF Indonesia.
The discovery of the whale is just another example punctuating the need to take action against plastic waste, particularly in Indonesia where 3.2 million tons of mismanaged plastic is produced each year, 1.29 million tons of which end up in the ocean. These numbers place Indonesia in the number two spot, following China on the list of the world's largest polluters of plastic.
In light of the discovery, Luhut Binsar Pandjaitan, Indonesia's coordinating minister of maritime affairs, is calling for tougher measures to protect the ocean.
"I'm so sad to hear this," said Pandjaitan, who has campaigned to curb plastic waste. "It is possible that many other marine animals are also contaminated with plastic waste and this is very dangerous for our lives."
As such, he assures that the government is making efforts to decrease plastic use, including measures urging stores not to offer plastic bags to customers as well as teaching students in schools throughout Indonesia about the dangers of plastic waste, all with the goal of meeting a government target that would reduce plastic use by 70% by 2025.
"This big ambition can be achieved if people learn to understand that plastic waste is a common enemy," he said.