Bay Area HVDC Electric Line Sells for $1 Billion
David Wagman | November 19, 2018
Florida-based NextEra Energy Transmission said it will buy Trans Bay Cable (TBC) for around $1 billion. TBC is a 53-mile-long, high-voltage direct current (HVDC) underwater transmission cable system that provides 40% of the electrical power used on a daily basis in San Francisco and its surrounding areas.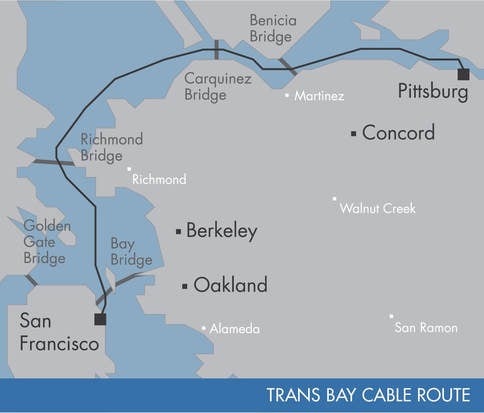 Source: TBCTBC was developed by Steel River Infrastructure, based in California, and was approved in response to a 1998 blackout in the Bay Area.
The deal requires approval from the California Public Utilities Commission and the Federal Energy Regulatory Commission. The sale is expected to close in 2019.
NextEra Energy Transmission develops, finances, constructs, operates and maintains transmission assets across North America.
TBC is an HVDC underwater cable interconnection between San Francisco and Pittsburg, California. The cable runs under San Francisco Bay and through the Carquinez Strait. It can transmit 400 MW of power at a DC voltage of ±200 kV.
The line connects Pacific Gas & Electric's Potrero Substation to its 230 kV transmission line in Pittsburg. The system was completed in November 2010. The TBC was one of the first commercially operated HVDC systems to use the Siemens HVDC Plus Modular Multi-Level Converter VSC system.