Watch How Liquid-Gated Membranes Enhance Water Filtration
S. Himmelstein | November 14, 2018
Water filtration membranes are susceptible to fouling, necessitating consumption of electricity to force water through a partially clogged membrane and frequent membrane replacement. These costly remedies might be eliminated by liquid-gated membranes (LGMs) that filter nanoclay particles out of water with twice the efficiency of conventional membranes. The LGMs also take three times longer to foul and reduce the pressure required for filtration.
The re-engineered membranes mimic nature's use of liquid-filled pores to control the movement of liquids, gases and particles through biological filters using the least energy possible. Each LGM is coated with a liquid that functions as a reversible gate, filling and sealing its pores in the closed state. Under application of pressure, liquid inside the pores is pulled to the sides, creating open, liquid-lined pores that can be tuned to allow passage of specific liquids or gases. The structure resists fouling due to the liquid layer's slippery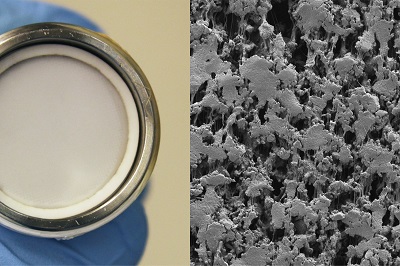 Liquid-gated membranes (left) offer a more economical, less energy-intensive way to filter substances from liquids. Their specially coated, porous surfaces (right, SEM image) resist accumulation and can be tuned to allow particles of specific sizes to pass through. Source: Wyss Institute at Harvard Universitysurface and facilitates the separation of a target compound from a mixture of different substances.
The LGMs were tested with a suspension of bentonite clay in water simulating the wastewater produced by oil and gas drilling activities. Standard filter membrane discs were infused with perfluoropolyether, a liquid lubricant long used in the aerospace industry, to convert them into LGMs. The membranes were then placed under pressure to draw water through pores but leave the nanoclay particles behind, and the performance of untreated membranes was compared with that of LGMs.
Nanoclay fouling occurred more quickly in untreated devices relative to LGMs, which were observed to filter water three times longer than standard membranes before requiring a backwash procedure to remove accumulated particles. Less frequent backwashing could translate to reduced use of cleaning chemicals and energy required to pump backwash water.
The LGMs did eventually experience fouling, but 60% less nanoclay accumulated in their structures during filtration, resulting in a longer lifespan. These membranes also needed 16% less pressure to initiate filtration, which in turn adds to energy savings.
Researchers from Harvard University, Northeastern University and the University of Waterloo (Canada) contributed to this study, which is published in APL Materials.