Giant Hydraulic Shaker Vibrates Spacecraft With the Intensity of an Earthquake
Eric Olson | November 14, 2018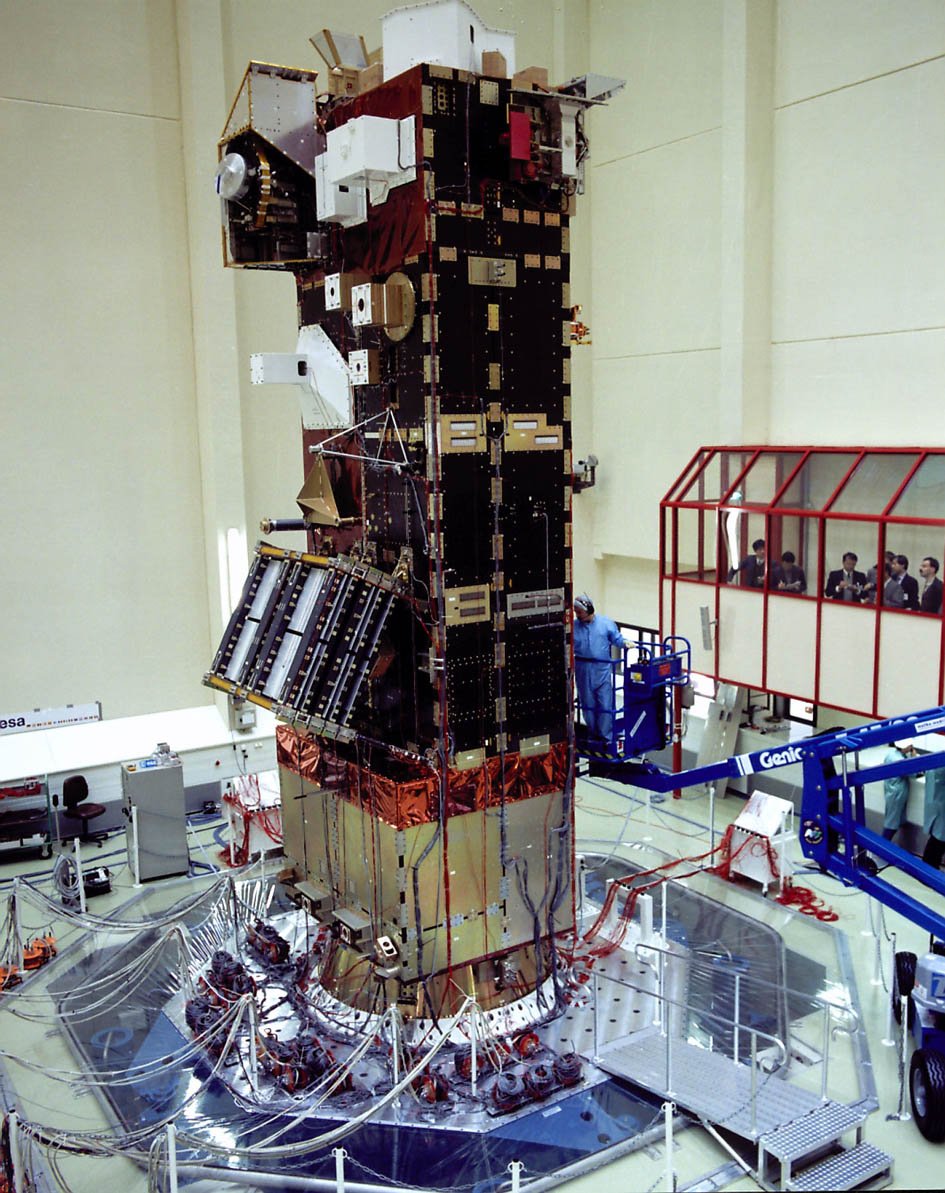 A structural model of the 8 tonne Envisat satellite attached to the Hydra multi-axis shaker. Source: ESA
In the first two minutes of a rocket launch, a stowed satellite is buffeted by an onslaught of shaking and vibration with the strength of an earthquake. To ensure that expensive flight hardware is not destroyed, engineers need a way to verify that equipment will survive the extreme forces ahead of the launch.
European Space Agency (ESA) scientists carry out such verification assessments at the Hydra (hydraulic shaker) multi-axis vibration test facility located at the European Space Research and Technology Center (ESTEC) in Noordwijk, Netherlands. The Hydra shaker mimics launch forces by driving an octagonal table with eight hydraulic actuators in both vertical and lateral directions to achieve six-degrees-of-freedom motion. The actuators generate a maximum force of 2,520 kN along the vertical axis and 1,260 kN along the horizontal axis to shake test specimens weighing up to 22,500 kg. Hydra's powerful vibrations are equivalent to an earthquake of 7.5 on the Richter scale.
Hydra's "seismic foundation" sits on springs and dampers that prevent the shaker's forces from affecting the test center's other facilities. Source: ESA
Standing on the windowed observation deck overlooking Hydra, the vibration test facility might seem unimpressive. The only piece of the hydraulic shaker visible at ground level is a 5.5 m x 5.5 m aluminum test table flush with the floor. But that simple surface belies a technically complex and structurally massive assortment of equipment and architecture just beneath the floor.
Eight hydraulic actuators driven by a hydraulic power unit are coupled to the test table and linked to a sequencing system that synchronizes the shaker's motion. The actuators, sequencers and test table are encased in a giant "seismic foundation" – a concrete block weighing 1,400 tonnes. Lining the walls of the block are a series of valves and pipes along with a set of green nitrogen cylinders containing gas used to smooth variations in hydraulic oil pressure. To isolate the rest of the test center's high-tech facilities from Hydra's ferocity, the entire block rests on a number of springs and dampers that absorb and dissipate the shaker's enormous forces.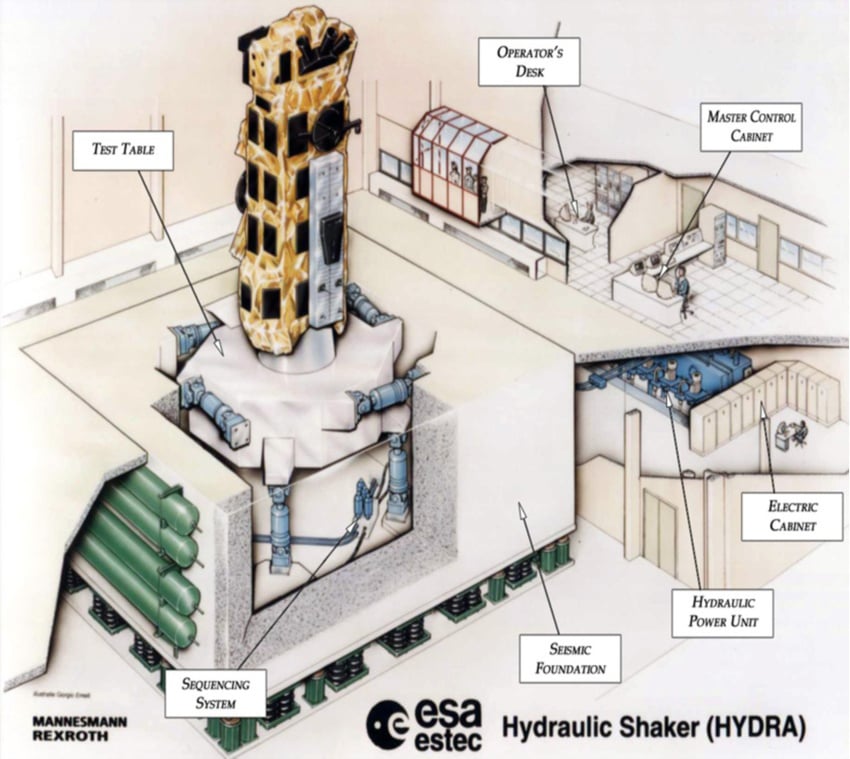 A schematic of the Hydra facility illustrating some of the hydraulic shaker's primary elements. (Click image to enlarge.) Source: ESA/ESTEC
[Discover Shock Absorbers, Linear Dampers, and Dashpots and learn more about them on Engineering360.]
A computerized control system operates the shaker in sine, random or shock modes at frequencies ranging from 0.1 to 100 Hz with a maximum acceleration of 5 g and a maximum table velocity reaching 0.8 m/s. A mobile data acquisition system with 512 measurement channels enables detailed logging of test results.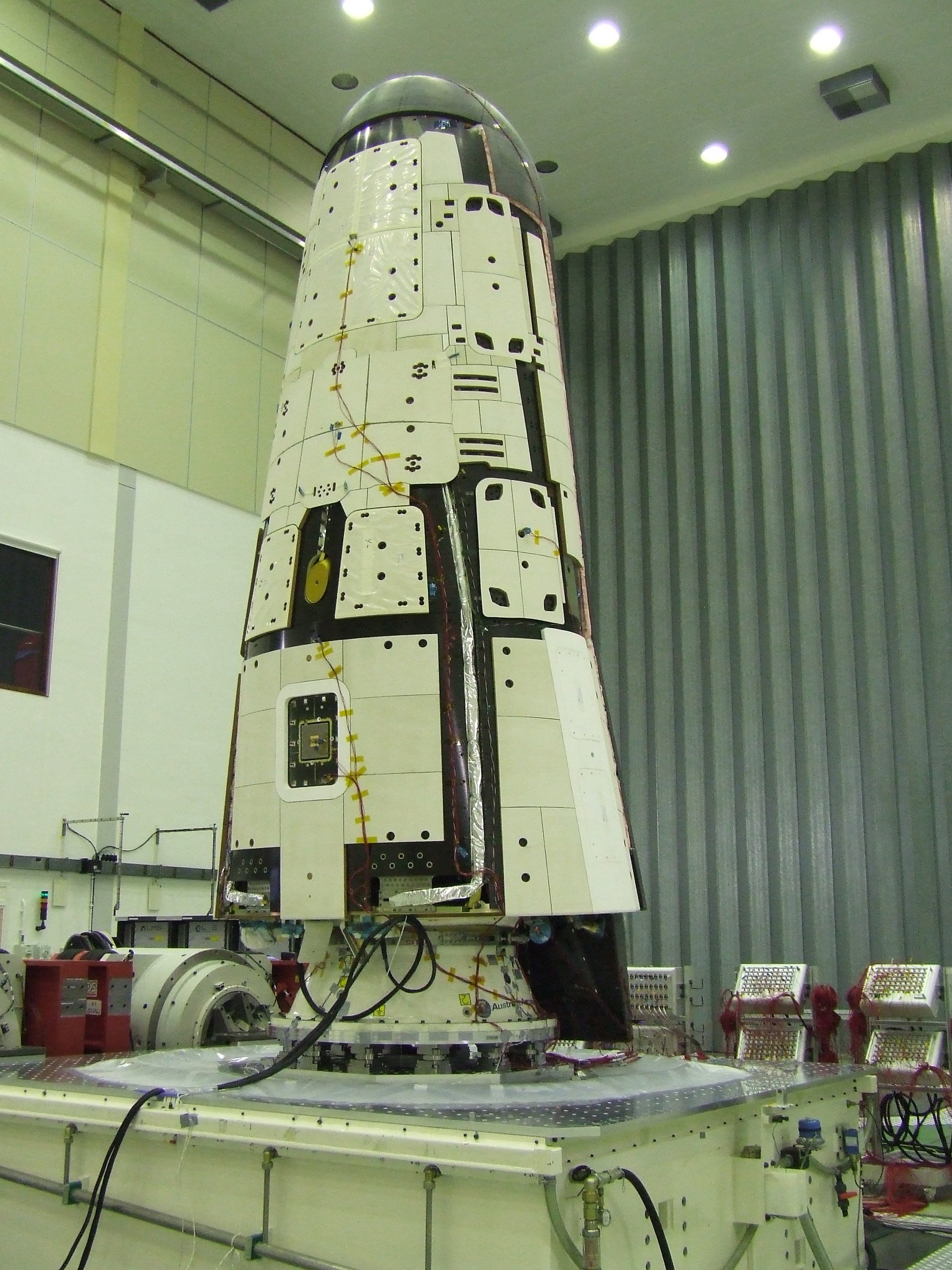 The large aluminum slip table on ESTEC's 320 kN Multishaker is loaded with ESA's Intermediate eXperimental Vehicle spaceplane for horizontal vibration testing. Source: ESA
Electrodynamic Shaker
The Hydra shaker is ESTEC's largest vibration facility, capable of handling large satellites. But the center has a number of other shakers as well. ESTEC's electrodynamic shakers generate vibrations by moving an armature with strong electromagnets driven by high power amplifiers. ESTEC's smaller electrodynamic shakers are ideal for testing items with reduced dimensions like micro-satellites or subsystems. This group of shakers includes one that produces up to 80 kN of force and two 160 kN shakers. A larger multishaker consists of two 160 kN shakers connected to a slip table. The center's largest electrodynamic shaker is its Quad system comprised of four 160 kN shakers connected to a large magnesium test table.
Compared to the Hydra shaker, the electrodynamic shakers have lower maximum specimen weight capacities (up to 10,000 kg for the Quad multishaker), but can deliver much higher accelerations and frequencies (up to 100 g and 3 to 2,500 Hz for the 80 kN shaker).
[Discover Shock and Vibration Testing Shakers and learn more about them on Engineering360.]
Other Facilities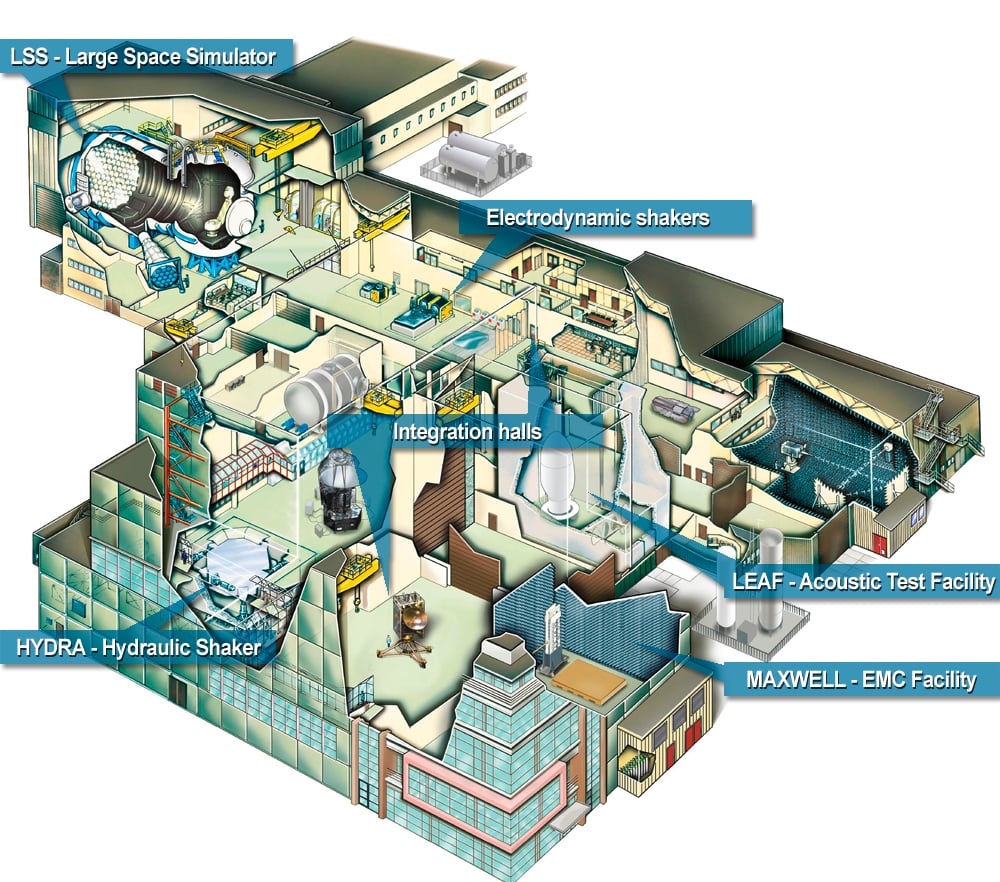 Source: ESA
The scope of testing activities at ESTEC extends beyond vibration assessments. The center actually has a comprehensive suite of spacecraft testing facilities allowing engineers to qualify designs by evaluating prototypes as well as verify actual flight models in acceptance tests. Through these activities, engineers confirm that their designs will stand up to the harsh conditions experienced during launch and in space.
In addition to vibration shakers, the center contains an acoustic testing chamber, mass property measurement facilities and an electromagnetic compatibility (EMC) facility. The 2,300 m3 Large Space Simulator (LSS) – one of three vacuum thermal facilities at ESTEC – exposes satellites to conditions mimicking the harsh environment of space with vacuums down to 5 x 10-6 bar and temperatures as low as -173°C.
[Find Environmental Test Chambers and Rooms on Engineering360.]
Although ESTEC is owned by the ESA, spacecraft are not the only products that undergo qualification testing there. The test center also serves clients in multiple industries and applications, including marine, rail and aerospace businesses, testing devices and systems both large and small.
[Stay tuned to Engineering360 to read about how verification and validation help engineers avoid catastrophe.]