Study: The Molecular Makeup of Organic Aerosols
S. Himmelstein | November 05, 2018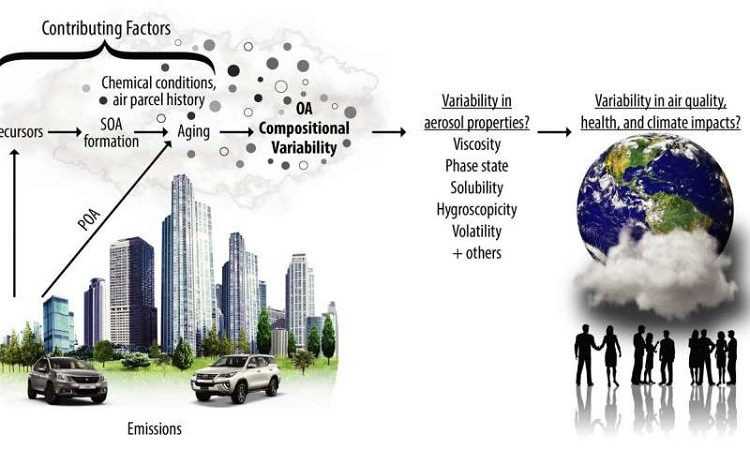 The compositional variability observed is driven by a combination of several key factors, such as precursor identity, chemical oxidation conditions and air parcel history. Source: Yale University
A clearer picture of the chemical composition of organic aerosols was recently obtained by Yale University researchers using a combination of liquid chromatography and mass spectrometry. These air pollutants include primary organic aerosols that can form during combustion, such as in car and truck exhaust, and secondary organic aerosols that result from oxidation of organic gases and particles in the air.
Samples were collected during the summer from a forest in Michigan, and from urban environments in Atlanta and New York City. A large molecular-level variability between multi-hour organic aerosol samples at each site was observed. Up to 70% of the compounds at a site were distinct from each other in consecutive samples.
Precursor modeling and laboratory experiments indicate that such variability is attributable to changes in emitted precursors, chemical age and/or oxidation conditions. These molecular-level results demonstrate greater compositional variability than is typically observed in less-speciated measurements, such as bulk elemental composition, which tend to show less daily variability. The observations should inform future field and laboratory studies, including assessments of the effects of variability on aerosol properties and ultimately the development of strategic organic aerosol parameterizations for air quality and climate models.
Effective air quality and climate management strategies must consider the underlying processes that control this variability and influence the impacts of the coupled emissions-chemistry system.
The research is published in Nature's Communications Chemistry open-access journal.