Auto Industry on Pace to Beat 2020 Fuel Efficiency Standards, Report Says
Engineering360 News Desk | May 29, 2015
The auto industry is ahead of schedule in meeting U.S. federal fuel economy goals, according to an analysis by the Union of Concerned Scientists (UCS). Manufacturers on average are around one year ahead of schedule.
Around 10% of the new passenger cars and trucks currently on the market meet their federal targets for 2020. The industry still has "much room to apply state-of-the-art fuel efficiency technology to the remaining fleet," UCS says.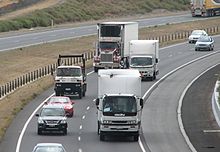 Automakers are meeting the challenge of making cleaner cars. Image source: Wikipedia. "The efficiency and emissions standards are working — all you have to do is look at cars and trucks that are on the road," says Dr. Dave Cooke, vehicles analyst at UCS. "Automakers are meeting the challenge of making cleaner cars, and Americans are buying those cars."
Automakers must produce fleets that have a so-called Corporate Average Fuel Economy of about 42 miles per gallon (mpg) by 2020 and 54.5 mpg by 2025. The 2020 target is closer to 32 mpg and the 2025 is about 37 mpg, Cooke says. Vehicles that already meet or exceed those numbers include variants of nearly 100 different models.
Most of the improvements are coming in normal vehicles and don't rely on advanced technology such as battery electric drive trains or hydrogen fuel cells. About 70% of sales of vehicles that meet or exceed 2020 standards run on conventional gasoline- and diesel-powered engines, Cooke says.
"Everyone is looking for the internal combustion engine to be the main driver of these efficiency improvements over the next 10 years," he says.