Next-Generation L-Band Antenna for the Iridium Next Satellite Constellation
Shawn Martin | November 01, 2018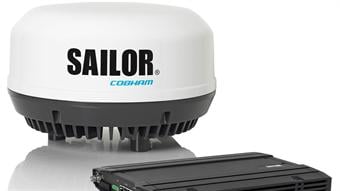 The new SAILOR 4300 L-band antenna | Source: Cobham SATCOMA new L-band antenna that communicates across Iridium Next, a second-generation satellite constellation, functions as a high-performance, stand-alone terminal or as a dependable back-up to existing very small aperture terminal (VSAT) systems.
The Sailor 4300 L-band antenna from Cobham Satcom is a next-generation terminal and the first of their Iridium Certus Connected range of terminals which, will communicate across Iridium's second-generation satellite constellation.
Iridium Next will be composed of 75 cross-linked satellites that feature a low-earth orbit architecture. The second-generation satellites are backwards compatible with existing first-generation Iridium satellites. Sixty-five satellites have been launched and deployed so far, the final ten are scheduled to launch in December 2018.
The Iridium Next satellite constellation offers global coverage and the Sailor 4300 L-band antenna takes advantage of the next-generation satellite constellation. It is configurable to support three voice lines and 352/176 data speeds, which is upgradeable to 704/176.
Ease of installation is facilitated with a single 75 m coax cable. It features built-in GNSS, no scheduled service is necessary and it is easily configurable through a web interface and a built-in application programming interface that supports third-party integration.