200 MW Solar Farm Is Underway
David Wagman | October 11, 2018
A 200 megawatt solar installation built exclusively for a California Community Choice Aggregation agency has broken ground today in the state's Central Valley.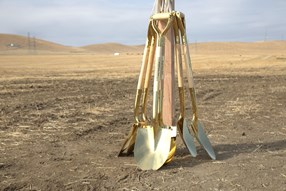 Shovels used at the Wright Solar groundbreaking event. Credit: Peninsula Clean EnergyPeninsula Clean Energy, the electricity provider for 290,000 San Mateo County customers, said that it expects the Wright Solar project to come online in late 2019.
The provider says that it plans to provide all customers with 100% renewable power by 2025. Peninsula has a 25-year power purchase agreement with Wright Solar Park LLC to buy the solar facility's electricity. The project is owned by Centaurus Renewable Energy. Construction and operations are managed by Clēnera, LLC. The solar facility is being constructed by Swinerton Renewable Energy.
Peninsula Clean Energy was the fifth Community Choice Aggregation entity formed in California. It launched its service in October 2016.